This review originally appeared in shorter form on KSNT-NBC, KTKA-ABC, and KTMJ-FOX, Kansas First News.
The Rum Diary is based on a 1961 novel written by Gonzo journalist Hunter S. Thompson. Like he did in the Thompson adaptation Fear and Loathing in Las Vegas, Johnny Depp plays the main character—in this case, a young writer who winds up drinking a lot and pondering his life at a dead-end newspaper in Puerto Rico.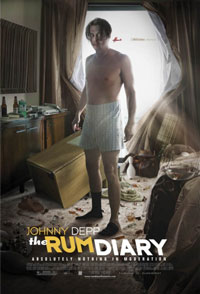 Aaron Eckhart plays the movie's villain, a businessman who cares more about acquiring land than he does about the people of the country. The Rum Diary is essentially about class warfare, one culture wiping out another, and someone getting up the guts to do something about it. A parallel could be drawn between some of the movie's themes and the point of the Occupy protesters.
What's weird is that, even as the characters allude to these ideas, they don't get too worked up about it. Everybody arrives in Puerto Rico for different reasons, and none of those are to "make a difference." So writer/director Bruce Robinson never really commits to that ideal.
Some of the dialogue has that Gonzo bite to it, and there some very funny scenes where Johnny Depp and his drinking buddy Michael Rispoli get in way over their heads, but The Rum Diary has a strangely subdued tone. Even when Giovanni Ribisi shows up to chew all kinds of scenery as an alcoholic who is waaaaay beyond repair, it doesn't seem to be in the service of anything.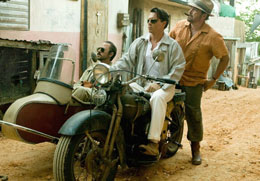 A supposed romance with Amber Heard generates lots of lust but goes nowhere, just like the film's main conflict. She looks great in the 60s period outfits and makeup, but outside of her pinup good looks, no real heat is generated between she and Depp. She's an object, nothing more, and considering where that storyline ended, I thnik she was supposed to evolve beyond that.
The Rum Diary feels about as focused as an all-night bender, which I suppose is kind of the point, but is its natural, rugged charm enough? Because its the beginning of Hunter S. Thompson's personality being carved out, it doesn't stay full-tilt Gonzo for too long, just in spurts.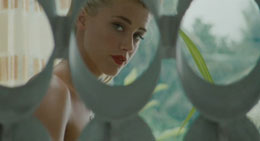 Staying with the film (on its side, getting chummy with it, you know?) until the end isn't hard, but right at that last moment before the credits roll, some end titles come up on the screen and just flat-out tell us the ending of the story.
It doesn't even feel like an epilogue, which its supposed to, I think. It kind of feels like the filmmakers just got tired and said, "We're done, here's what happened. Here's how it ends."
There's a difference between a laid-back pace and a lazy movie, and Johnny Depp and The Rum Diary spends the film's running time alternating between both.