This review originally appeared in shorter form on KSNT-NBC, KTKA-ABC, and KTMJ-FOX, Kansas First News.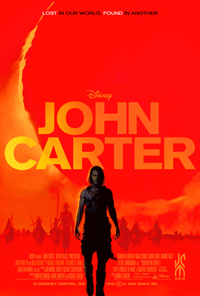 It's tough to make a 100-year-old story fresh, especially when it sounds like and looks like so many fantasy and sci-fi films before it. John Carter, adapted from characters created in 1912 by Edgar Rice Burroughs, won't feel new to modern audiences.
It's part Star Wars, part Flash Gordon, part The Matrix, and part Lord of the Rings, with an ordinary character—in this case, a Civil War captain—transported to Mars to fight a battle waging between the planet's inhabitants. (It's actually a "body copy" that goes there, which means Burroughs was way ahead of the virtual reality curve!)
John Carter, played rather blandly by Taylor Kitsch, falls in with four-armed aliens known as Tharks and eventually (of course) falls in love with a princess (Lynn Collins, who plays it with just the right amount of fiestiness and earnestness).
Director Andrew Stanton, who helmed WALL-E and Finding Nemo has a sure storytelling hand, but the familiar parts of John Carter grow a little unwieldy during its two-hour-plus running time.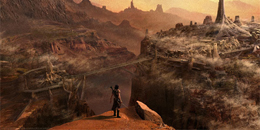 Still, the art direction has a unique steampunk turn-of-the century look and the visual effects are spectacular. Stanton knows how to film an action scene as well — there's no shakycam or modern intrusions going on here.
A couple of subtle and effective character-deepening flashbacks from the Civil War quickly give audiences a measure of what John Carter lost in the Civil War and why he is so resistant to fighting again for someone else's cause. Even if the inner sorrow isn't quite reflected by Kitsch's acting, the way these scenes are delivered and the moments Stanton chooses to insert them add a surprising and much-needed layer of development.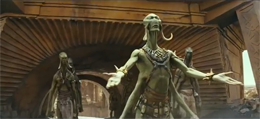 There's also nifty framing device that seems unnecessary and a bit distracting at the beginning of John Carter, but has a big payoff towards the end. Even as the film flirts with campiness and delivers some good-natured, family-oriented laughs, the way the movie is framed gives the story more emotional resonance than you would think.
Then there is the whole issue of the Therns, a mysterious race of "holy" men who have God-like powers and are manipulating the wars and outcomes of Mars (called Barsoom by its inhabitants). The questions raised by their almost omnipotent influence and power are intriguing, and will hopefully be addressed more in subsequent John Carter films.
Since its story inspired every mainstream fantasy right up to Avatar, John Carter may seem a little old-fashioned, but it's a solid piece of fantasy entertainment that's equal parts corny and poignant.
For another (far less forgiving) take, check out contributor Trey Hock's review of John Carter.