This review originally appeared in shorter form on KSNT-NBC, KTKA-ABC, and KTMJ-FOX, Kansas First News.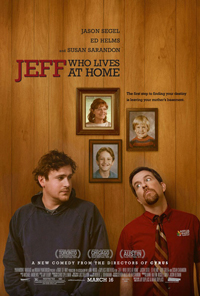 Jason Segel plays a 30-year-old living in his Mom's basement who says he's waiting for fate to intervene and give his life meaning. From the opening monologue — where Segel (as title character Jeff) talks about how M. Night Shyamalan's Signs is a philosophical statement of the highest order — it isn't clear whether Jeff, Who Lives at Home will take a mocking tone towards its inhabitants or a sincere one.
(Not really) spoiler alert: Jeff, Who Lives At Home, the newest comic drama from indie writer/directors Jay and Mark Duplass, plays it straight.
If anything, it challenges its audience not to laugh at the 30-year-old stoner who can't be bothered to leave the house and instead asks us to ponder the innerworkings of his mind for awhile.
As the movie follows Jeff around on a silly diversion of a journey, we're actually very much inside of his head, along for the ride.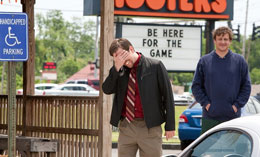 Jeff's older brother, played by Ed Helms, is facing a mid-life crisis and his marriage (the always reliable Judy Greer plays his wife) is getting stale. Jeff's mother, played by Susan Sarandon, calls him from work to get him out of the house on an errand, but soon finds her birthday interrupted by a mysterious secret admirer who is sending her inter-office chat messages.
Jeff, Who Lives at Home is a low-key comedy filled with excellent, naturalistic performances. It all takes place during one day and has more genuine sweetness than it does laugh-out-loud jokes. What makes the film so charming is that all three of the film's characters care deeply for each other. They just have trouble showing under normal circumstances.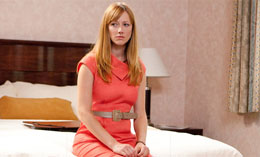 Segel plays characters like this a lot, but he gives this particular man-child character more pathos than usual. A hulking presence with longish curly hair and a hoodie, Segel's eyes are filled with a disarming amount of trust.
Helms is fine as well. He isn't playing nerdy at all. Instead, his uncomfortable moments come from a huge amount of misplaced confidence. The sibling rivalry becomes more obvious the more time he and Segel appear onscreen together, and it's obvious that he's not put together as solidly as he'd like to believe.
Susan Sarandon, simply put, just shines. It's so nice to see her in a bigger role after what seems like ages.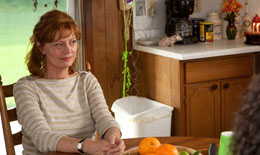 Some annoying quick zooms in and out for no apparent reason mar the rest of the movie's laid-back visual style, which is mostly non-intrusive and not flashy at all.
And—even though its hinted at the beginning, Jeff, Who Lives at Home also has a surprise ending that might be the true test of whether an audience is into these characters or not. Even more than Jeff's couch philosophizing (which has a slightly mocking tone at times), the ending is played for sincerity. It's almost as manipulative as it is surprisingly effective.
Jeff, Who Lives at Home may be another movie to celebrate the stunted development of the adult male, but it is charming and has goodwill to spare.