This review originally appeared in shorter form on KSNT-NBC, KTKA-ABC, and KTMJ-FOX,
Kansas First News
.
In recent memory, I'm not sure if I've seen a movie more at odds with itself than J. Edgar, the new biopic from director Clint Eastwood.
On one hand, it's the flashback-heavy story of power-hungry FBI director J. Edgar Hoover (played by Leonardo DiCaprio), who helped found the federal crime-fighting agency and headed it through six presidencies and almost four decades. Hoover was an innovator who pioneered fingerprinting technology and stressed the need for forensic evidence.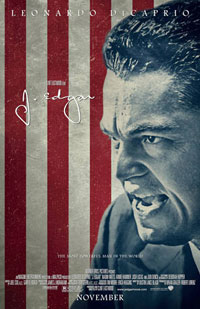 There's a lot of history to cover in J. Edgar, and although it's interesting subject matter, sometimes the movie seems like it feels an obligation to cram it all in. This is a common problem with biopics and although Clint Eastwood faithfully attacks the material, the results are often less than invigorating.
(This is especially true in the makeup department. It is a testament to Leonardo DiCaprio's performance that he manages to create a real human being out of J. Edgar Hoover, because the old-man makeup—a problem in Clint Eastwood's Flags of Our Fathers as well—is really distracting. I'm not one to harp on the skilled craftsmen in Hollywood who are at the top of their field in a certain department, so maybe it is the fact that we know Leonardo DiCaprio's face too well that helps make the makeup distracting. Either that or—like CGI animation—the technology and advancements in makeup just aren't there yet to make convincing humans. The face of Leonardo DiCaprio himself is a little inflexible at times, but the actor mostly overcomes. Armie Hammer, however—who plays Clyde Tolson, Hoover's confidant, close friend and possibly gay lover—isn't so lucky. He fully develops a complicated combination of affection, respect, and hostility towards Hoover as a young man, but the moment his character appears aged, his face is an immovable rubbery mass. In addition to distracting from the movie, I think this will hurt  Leonardo DiCaprio and Armie Hammer's chances of becoming Academy Award nominees next year.)
Besides the historical aspect, Clint Eastwood tackles the personal side of the FBI man. J. Edgar Hoover was a fiercely private person who abused his authority to harass activists and blackmail political leaders. In the film, he's also portrayed as a closeted homosexual who hates himself and has serious mommy issues.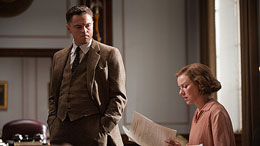 Such a wildly divergent story might have been told more effectively with a heaping helping of style, but Clint Eastwood plays it safe while the screenplay from Oscar-winner Dustin Lance Black is full of all kinds of innuendo and subtle dark humor. (One famous phone call that must have delighted Hoover beyond belief is relayed in the film amidst Hoover listening to surveillance tape of an orgasm. Funny!)
Eastwood uses different color schemes and contrasts for different time periods so it's easy to tell where the movie fits on a timeline, but there is something kind of stodgy and sometimes plodding about the whole affair.
It is in Hoover's most personal moments—scenes with his overbearing mother (Judi Dench), his loyal personal assistant (Naomi Watts) and Tolson—that the movie really comes alive, suggesting that had Clint Eastwood narrowed his scope a little more, he might have had a more emotionally involving portrait. Still, the questions the film raises about Hoover's legacy are interesting to ponder.
J. Edgar is a frustrating watch for sure, and its pace flags several times due to some heavy-handed narration that struggles with these historical themes, but the fact that it's always fighting itself is kind of fascinating too.
If being easily digestible is an important factor, J. Edgar isn't a prime candidate for success. There are lots and lots of things to chew on, though, and that's never a bad thing.