This review originally appeared on KSNT-NBC, KTKA-ABC, and KTMJ-FOX, Kansas First News.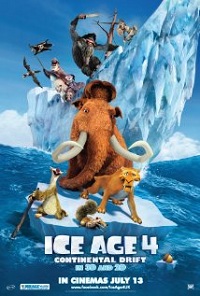 Ice Age: Continental Drift is the fourth computer-animated movie in 10 years from Blue Sky Studios to feature four prehistoric mammals — a mammoth, a sloth, a sabre-toothed tiger, and a squirrel. — and their various adventures.
Like its predecessors, it falls neatly in the creatively bereft category of what I like to call "talking animal movies." Yes, these animals talk, but there's more to the theory than that …
The "talking animal movie" formula is simple: Take a story that could be performed by humans—in this case, a father having a hard time dealing with his daughter growing up struggles to keep the family together. Now give these human traits (and this universal conflict) to talking animals instead, taking full advantage of their surroundings to spruce up the story.
Ray Romano's mammoth Manny is the overprotective father and Queen Latifah voices Ellie, his understanding wife. These two actors could play the same story, but if it weren't set in Paleolithic times with a bunch of talking animals, the simple setup and rote execution would be even more glaring.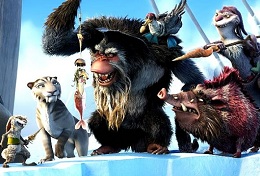 A giant pirate ape (voiced by Peter Dinklage from Game of Thrones) provides ample conflict as the bad guy, but a "romantic" sidestory for Denis Leary's sabretooth Diego with female tiger Shira (Jennifer Lopez) is nothing but a couple looks and lines here and there.
The action scenes are fun and inventive, even if all of Ice Age: Continental Drift seems awfully familiar.
Each animal has its one defining trait (as one-dimensional as they need to be) and the actors perform their tasks well, but there's not a lot of depth and no surprises—just top-notch animators working under a strict formula.
With its multicultural casting and "uplifting" message about how the people that support you in your life are your real family, Ice Age 4 is progressive and positive while somehow being completely forgettable.