Check out videos of all my movie reviews on KSNT-NBC, KTKA-ABC, and KTMJ-FOX, Kansas First News.
Director
Peter Jackson
returns to Middle Earth for the first time since 2003 — when the last movie in
The Lord of the Rings
trilogy was released and won the Oscar for Best Picture. Even though Jackson was really being rewarded for all three films rather than
The Return of the King
by itself, the prequel 
The Hobbit: An Unexpected Journey
doesn't have quite the same weight as the quest for the "one ring to rule them all."
Despite some minor missteps, watching The Hobbit: An Unexpected Journey feels like welcoming an old friend into your home. He may ramble a bit and slightly overstay his welcome, but hanging out with him reminds you of why you're friends in the first place.
The novel The Hobbit was author J.R.R. Tolkien's dry run leading up to has vastly more detailed Lord of the Rings books, so the story is pretty familiar. Gandalf the wizard (Ian McKellan) plucks a content Bilbo Baggins (Martin Freeman) from the Shire and the hobbit is led on a great quest to help 13 dwarves reclaim their home from an evil dragon and finds his own courage in the process.
Jackson knows how to keep us grounded in Bilbo's transformation, but the stakes seem a little smaller in The Hobbit, so presumably that's why the action scenes are more frequent — to make up for it. Of course, they're absolutely spectacular, with first-rate visual effects artists at the top of their game. The high point, not unexpectedly, is the  "riddle" scene Bilbo shares with Gollum (voiced by the inimitable Andy Serkis), who looks even more expressive and convincing than he did in 2003.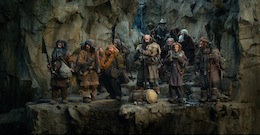 The Hobbit has the hurdle that the new Spider-Man movie has—so much of it feels like you've seen it before. Also, there was so much world-building in The Fellowship of the Ring that Jackson doesn't take as much time doing that here. But Jackson still knows how to make his epic journey more than a clinical special-effects extravaganza
It's harder to relate to the dwarves than it is with the Fellowship and the comedic scenes aren't quite as effortless as The Lord of the Rings, but I was surprised at how quickly and willingly I submitted to the rhythms of Middle Earth, even if it did *ahem* … look a bit different than I remembered.
Sure, there were a slew of returning Rings characters, and the production design was identical to the original trilogy, but the look I'm referring to is one of clarity. The Hobbit: An Unexpected Journey was filmed at a rate of 48 frames per second, something Jackson is calling "high frame rate."  The screening I saw was in HFR 3D. Not every theater will be able to present the movie in this format.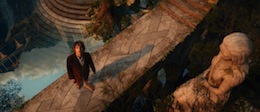 Essentially what that does is make a clearer, brighter image, supposedly free of motion blur, or strobing. We are used to seeing films at 24 frames per second, so that "filmic" quality that we've been used to all our lives is gone, in favor of ultra-hi-res imaging. (James Cameron has said that the new Avatar sequels will be 60 fps.)
Jackson maintains that the higher frame rate makes 3D easier on the eye, reducing strobing, blur, and flicker. I still noticed motion blur, especially in particularly fast-moving scenes, but I also enjoyed the way that the CGI special effects blended seamlessly with the actors and the more immersive quality the 3D had.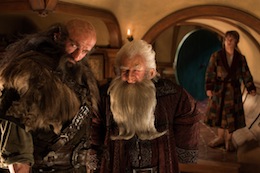 That said, sometimes it did seem painfully obvious that these were actors in makeup on a set, but only at first. Like any kind of moviegoing experience, I got used to it. About an hour in, I just accepted that this was a new kind of motion picture experience. Will it become the norm and make the history of cinema before now immediately antiquated? No.
The last 100 years of film history will always be marked by the look and feel of 24 fps, but those movies will still have plenty of differences to set them apart. The silents had a more adventurous visual palette than the early sound films. Technicolor epics will never be mistaken for neo-realist dramas. I assume people will use different frame rates for different feels. It will just become another tool in filmmakers' toolboxes, and hopefully be embraced and pushed forward in an artistic way, just like Werner Herzog and Wim Wenders used unconventional 3D in their recent documentaries.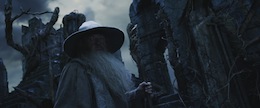 My verdict on the 3D HFR presentation is simple: It was a new experience that thrilled me and frustrated me in equal measure, and I'm up for more movies in this format.
My verdict on The Hobbit is that it's a bit long and it feels padded at times, but Jackson still knows how to mount rousing hero's-journey entertainment like no other director, and I'm totally ready for the next two movies in the series.