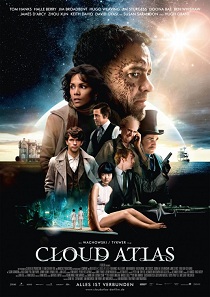 Yeah, I know it's been awhile! We don't do video reviews too often anymore, but this movie inspired a lot of discussion — 14 minutes worth!
Cloud Atlas, the new epic film from Lana and Andy Wachowski and Tom Tykwer — starring Tom Hanks, Halle Berry, Hugh Grant, and Jim Broadbent — is reviewed by site founder Eric Melin and contributors Trevan McGee, Trey Hock, and Clair Rock of Scene-Stealers just minutes after the credits rolled.
Opinions are mixed, going from a rock fist way up to a minor rock fist down!