This review originally appeared in shorter form on KSNT-NBC, KTKA-ABC, and KTMJ-FOX, Kansas First News.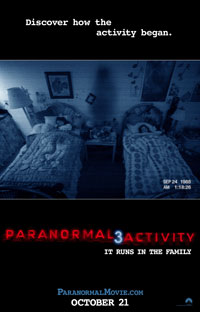 I suppose there is something to be said for a horror movie that plays into one basic fear and doesn't rely on torture or gore for shocks.
In that way, the fake reality-cam ghost-story series of  Paranormal Activity movies are kind of a breath of fresh air. For those who fear ghosts and have trouble sleeping at night — and those who like watching other people sleeping at night, for that matter — Paranormal Activity 3 will probably elicit its fair share of jump-in-your-seat moments.
This one takes place in 1988, even though its shot in clear widescreen HD (a time-warp! paranormal indeed.) and uses more actors you've never heard of and the classic tale of the little girl with an imaginary friend. If you can swallow the found-footage premise — that the camera was always taping for every scary moment — its easy to let the movie work its one-dimensional magic on you.
There's even a new device that Catfish directors Ariel Schuman and Henry Joost use to create suspense: an oscillating fan cam that makes you wait 5 or 6 seconds for it to come back to the original shot. For a film that relies more on what we can't see, it's pretty effective.
(It's ironic that Schuman and Joost are faking reality because that same charge was leveled at them after releasing Catfish and telling audiences it was a documentary. My opinion is that most of it is real, while some scenarios may have been planned and some scenes were staged. But aren't all documentaries staged in one way or another?)
Because Paranormal Activity 3 plays mainly on what we can't see, your eyes are constantly darting around the camera frame, looking for something strange. While that works in a funhouse sort of way, it's not very emotionally satisfying and the film drags horribly as you just sit there waiting for the next expected jolt. And the explanation of what may be actually happening is pretty silly.
But what this and the other films in the series do is prey on our fear of the unknown. As soon as that 'unknown' is revealed by the end, you can't help but feel kind of insulted. Is that all there is?
The answer, unfortunately, is yes.
Our own George Hickman reviewed Paranormal Activity 3 at Fantastic Fest back in September. Here's his take.