This review originally appeared in shorter form on KSNT-NBC, KTKA-ABC, and KTMJ-FOX, Kansas First News.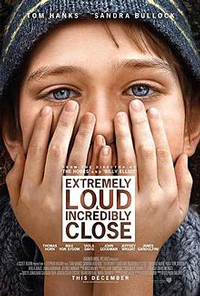 Extremely Loud and Incredibly Close is the movie adaptation of a 2005 Jonathan Safran Foer novel about a hyper-intelligent, hyper-sensitive young boy dealing with the death of his father in the 9/11 Twin Towers attack.
There a lot of quirky elements to this tale, from the animosity between son and mother to the boy's rapid-fire dialogue that's often extremely selfish and completely missing a filter.
It's too bad really, because for the most part, director Stephen Daldry and screenwriter Eric Roth have fashioned nothing more than a straight-up tearjerker with some very awkward moments.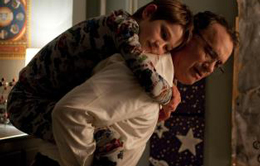 Newcomer Thomas Horn is 11-year-old Oskar Schell. His father, played by Tom Hanks, had always set up scavenger hunt-style games designed to help Oskar overcome his own social challenges. Despite some very powerful early scenes dealing with Oskar's own grief, the movie strives to be more plot-driven, so it becomes one of those games—a mission about finding the lock for a mysterious key.
The resolution to this mystery, however, ends with a scene that feels very forced. Following that, a last-minute revelation from Oskar's mother, played by Sandra Bullock, is even more contrived.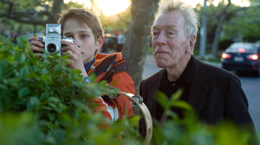 The scenes that work the best are the ones with Max Von Sydow, who plays an old man who doesn't speak and is renting an apartment from Oskar's grandmother. The two make an unlikely pair, but a sense of understanding forms between them about their own guilt. So much more is communicated with Oskar through The Renter than any other character, despite this inability (or refusal) to speak.
But it's a kind of one-sided relationship because the young Horn (not a professional actor, but a contestant the producers spotted on Jeopardy!)  feels like he's just reciting lines half the time. Yes, his nonstop barrage of words fits the character, but he's supposed to be filled with terror and anxiety and it just comes across as overly confident. Some of the most crucial emotional scenes suffer.
To make things worse, the movie spells its theme out with an exclamation point by having its characters speak it aloud over and over again.
If you want to "make sense out of something that doesn't make sense," you may want to try seeing a movie that's a little less manipulative.