Here's my TV review with clips of Elysium on KCTV5′s It's Your Morning.
This review was originally run in slightly different form at Lawrence.com.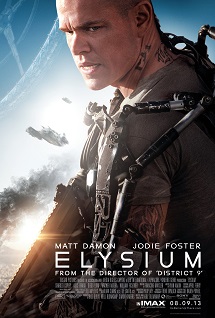 Elysium is the first film in four years from writer/director Neill Blomkamp, who stunned Hollywood in 2009 with District 9, a startling sci-fi allegory about apartheid and its corrosive nature that featured a race of stranded aliens being treated like second-class citizens in South Africa.
His follow-up again tackles class warfare and features a host of other political hot-button parallels from immigration and healthcare reform to drone strikes, but it's less likely to receive the kind of critical praise District 9 did because it otherwise follows a more traditional Hollywood path. That doesn't mean that it isn't deliciously entertaining.
It's 2154 and the Earth is overcrowded and virtually uninhabitable — essentially one big slum. Matt Damon plays Max, a Los Angeles factory worker with a seedy past who is trying to leave behind a life of stealing cars and fly straight. As a child, he made a pact with his best friend Frey (Alice Braga), a girl that lives in the same orphanage, that one day he will take her to Elysium — the giant terrarium space station floating above the Earth (by spacecraft) that the only the wealthiest people have migrated to.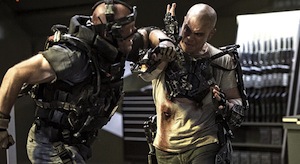 One theme that's magnified by the film's perfectly realized setup is that in a society out of control, people have very little freedom and even less choice. The noblest intentions lead Max into a desperate situation where he has just five days to make it to Elysium and — of course — nothing less than the fate of humans on Earth are at stake.
Damon is perfect to play Max, a figure of such single-minded intensity that he might come off as a bully were it not for Damon's natural charisma as a stand-up guy. In the spirit of playing larger than life, however, Jodie Foster plays Elysium's ice-cold secretary of defense with a non-specific aristocratic accent that's all over the place (but fun as hell), and Sharlto Copley (the unlikely star of District 9) is a bounty hunter who is as slimy as bad guys get.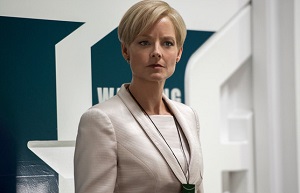 Blomkamp works a little too hard to make Max and Frey sympathetic, and when their paths converge again in adulthood with a similar problem, it's nothing if not convenient. The world-building in Elysium, however, is fantastic and detailed. CGI is blended expertly with practical effects and every level of the production design — from the graffiti-tagged humanoid-looking robots that serve as parole officers to the pallid fluorescent hue of Elysium's artificial atmosphere — serves to deepen the story.
The action is fierce, shot in close-up and with a combination of slo-mo and shakycam that makes it all the more vivid. It's not too often that you can say you've seen something new in Hollywood-style action, but Elysium delivers interesting new camera movements and effects that wow. When there is violence, it is gory and brief, used to shocking (and sometimes campy, whether intended or not) effect. There are even a couple surprises in the narrative as it builds toward its inevitable, too-heavily-foreshadowed conclusion.
Elysium may not have the immediacy of District 9 but it proves that Blomkamp has some serious cinematic chops, even if the weakness in both movies are their predictable third acts.