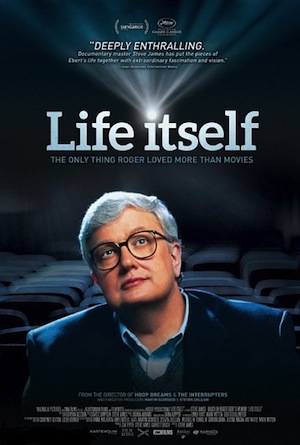 This movie review of Life Itself appears at Lawrence.com, video review from KCTV This Morning.
[Solid Rock Fist Up]
The new documentary Life Itself opens with a quote from its subject, beloved late film critic Roger Ebert:
"The movies are like a machine that generates empathy. It lets you understand a little bit more about different hopes, aspirations, dreams and fears. It helps us to identify with the people who are sharing this journey with us."
For the following two hours, Life Itself (opening at Tivoli Cinemas in Kansas City and now playing on iTunes and VOD) generates not only empathy, but admiration for the man who exposed so many unknown films and filmmakers to the world at large.
The movie was directed by one of those filmmakers — Steve James — whose remarkable 1994 documentary Hoop Dreams got distribution and became a hit almost solely on the recommendation of Ebert and his former onscreen reviewing partner, Gene Siskel.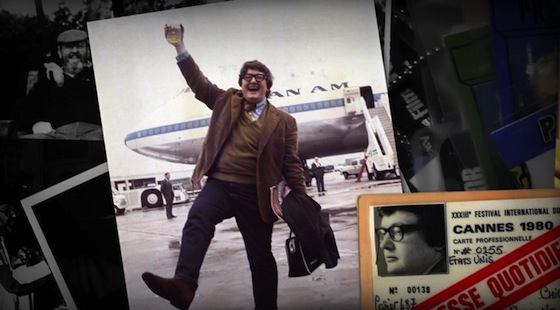 Adapting Ebert's 2011 memoir, James juggles multiple facets of Ebert's life — his formative years as a journalist, his early alcoholism, his complicated relationship/rivalry with Siskel, the marriage that changed his life, and his effect on the movie industry in general. All of these stories are framed within the bigger story from which the film (and book) derives its title. Like the book, Life Itself achieves a quiet peace about the specter of death.
Interspersed with footage shot from Ebert's hospital room, where he spent a lot of time fighting thyroid and salivary gland cancer — and multiple surgeries that left him without a lower jaw — the movie documents not only Ebert's courage in his final years, but also his eventual acceptance that his life was winding down.
James narrates the film, and punctuates it with revealing email Q&As that slowly become more difficult for the normally enthusiastic writer to respond to. This framing device gives the entire movie a reflective tone and makes Ebert's story even more poignant.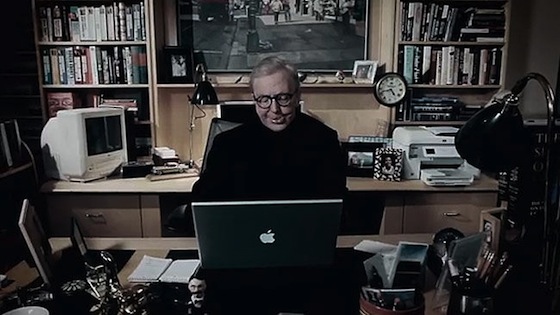 I think Ebert would be proud of the even-handed treatment he's given as a movie character. While Life Itself makes clear the influence Ebert had on generations of filmgoers, writers, and thinkers (myself included), it also spotlights his irascible side.
His and Siskel's passion for film and obsession with being "correct" led to petty arguments (many of them hilarious, caught in outtakes from their TV shows). And although Ebert says that his blog (which contained some of his most open-hearted writing) became his voice after losing the ability to speak, his frustration often swells at the state of his health, and James doesn't shy away from tense moments.
Besides being an invaluable primer on the life of a man who was omnipresent in any discussion about movies for over 40 years, Life Itself has a surprising amount of raw emotion. There's no doubt that to achieve that, James had to sacrifice more in-depth examination of Ebert's most cherished written content (he was the first film critic to win a Pulitzer Prize), but the resulting film is more cinematic for it.
Plato says that "the unexamined life is not worth living," and this touching documentary makes a powerful statement about a rich life lived at the movies, examining life.