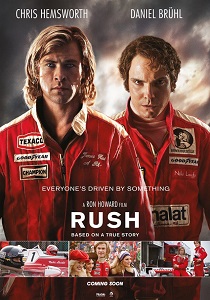 This review appeared in slightly different form on the Scene-Stealers Lawrence.com blog, and a video review from KCTV5's It's Your Morning.
Like the best sports movies, the 1970s-set Formula One racing drama Rush doesn't just use its sport as a backdrop.
Instead, courtesy of its go-for-broke cinematographer Anthony Dod Mantle, it conveys the thrill of the sport and the glamour of the lifestyle, while screenwriter Peter Morgan explores the drive of two men who took it to new levels. Formula One racing is as integral to the characters as it is the story.
Ron Howard is the director who puts it together, and although passion and energy are not two things usually associated with most of Howard's films (which beyond his lifeless Dan Brown adaptations The Da Vinci Code and Angels & Demons have been at least narratively sturdy), Rush is dripping with both. It's a two-hour film that never feels long, even when it slows down every now and then for a pit stop.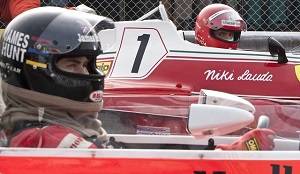 Neither of the two warring main characters of Rush are traditionally likeable, which is its own dangerous move in a tale that's full of them. Each is assigned their own defining traits for the purpose of the film, leaving its actors to breathe full life into them, which they do effortlessly. Englishman James Hunt (played by Chris Hemsworth) is a risk-taking womanizer, and Austrian Niki Lauda (Daniel Brühl) takes a calculated approach to everything, from romance to engine torque.
Their intense rivalry already the stuff of legend, Rush brings it to dynamic life, and probably accentuates the bitterness to make a more thematically coherent film. The script, which starts by alternating narration from both characters and drops it almost completely later on, gives us just enough background on their personal and professional journeys up to 1976 — and then focuses the remainder of the film on their race for the long-term Grand Prix title that year, which has enough drama for an entire miniseries. If anything, Morgan had to pick and choose which mini soap operas to dramatize and which to leave out.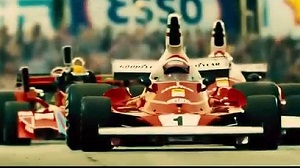 As quickly as it moves, however, the movie also does a bit too much in the way of broad generalization. Rush already has a tightly focused theme of how rivalries can raise competition to unheard of levels — and the lengths to which people will go to achieve their goals — so it is especially frustrating in the film's final scenes when this is explicitly spelled out for the audience with some redundant dialogue. Then again, subtlety isn't its strong point.
Mantle's colorful, high-contrast images evoke the period beautifully while never seeming like a parody of the '70s. The racing scenes are dizzying. Quick-take point-of-view shots alternate from various spots inside the car and on the track, while engines roar away. The stakes for each race are clearly set out, and the result is thrilling.