This review originally appeared in shorter form on KSNT-NBC, KTKA-ABC, and KTMJ-FOX, Kansas First News.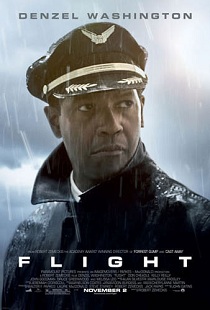 A new drama starring Denzel Washington opens this weekend, but it's not exactly the kind of movie that the previews might suggest.
Flight may be directed by Robert Zemeckis, the man who gave us Back to the Future and Forrest Gump, but that doesn't mean that this obvious piece of Denzel Washington Oscar bait is a film for the whole family.
The trailer makes Flight look like a mystery with a heroic pilot, played by Washington, at the center. After he miraculously lands a damaged plane and saves 96 passengers' lives, it's discovered that there were traces of alcohol in his system.
But there's no mystery here. We know from the first scene that the Washington is an alcoholic, and the film tackles his addiction head on.
What follows is a story hits many of the familiar story beats for a movie about addiction, but always manages to add another layer of complex emotion. Because of the tricky landing he manages, Washington's character Whip is empowered. He has more ammunition against those who tear down his world.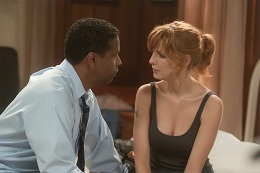 Flight is a harrowing look at the denial that all alcoholics must face, and its devious trick is casting Denzel Washington in the lead role. He carries authority, and acts like he's always in control, even when he's obviously not. No matter how many times Whip makes horrible decisions, we still root for him.
Sometimes the story veers into typical territory for a social problem film, but the subtle, fully realized performances of Washington and co-star Kelly Reilly, who is so effective as a junkie who's hit rock bottom, make the movie a fascinating character study.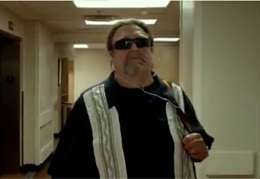 John Goodman is curious in a role that requires him to light up the room with his unique comic energy, but seems antithetical to the point of the film. He gets easy laughs as an enabling drug buddy, and it's a little uncomfortable that Zemeckis' direction goes right along with it, playing up his casual, rebellious nature to lighten the mood even as the stakes for Whip couldn't be higher.
Flight goes farther than merely condemning a man for his behavior, at times bringing up an uncomfortable and institutionalized masking of the truth, especially when money is at stake. Scenes with Don Cheadle and Bruce Greenwood, who appear as Whip's representation, have the push and pull of constant moral negotiation. It's a testament John Gatins' screenplay that the movie finds it's own voice and repeatedly asks tough questions, even if it has a tacked-on happy ending.
Zemeckis' return to live-action movies is an impressive adult drama about one man's downward spiral and the struggle to break it, but Flight is also interesting in the way that it challenges society's tolerance on one side of the issue and outrage on the other.