This review originally appeared in shorter form on KSNT-NBC, KTKA-ABC, and KTMJ-FOX, Kansas First News.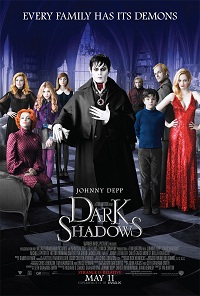 The summer movie season continues with one of Hollywood's biggest movie stars and his director of choice working on another remake together.
Director Tim Burton and star Johnny Depp team up for the eighth time in the new movie Dark Shadows, based on the oddball gothic soap opera that ran in the late 60s and early 70s on ABC.
Depp is Barnabas Collins, an 18th-century vampire freed from his coffin in 1972, and most of the film's funny moments come from his extreme culture shock. Unfortunately for the nearly two-hour movie, most of those scenes appear in the two-minute trailer.
Dark Shadows has the talent behind and in front of the camera to be the lusty, campy drama it wants to be, but the movie has a lot of exposition to get out of the way first. Barnabas' first true love is played by Bella Heathcote, who also plays her direct descendant Victoria 200 years later. Barnabas notices the similarity and falls in love all over again. Well, at least that's what he says. It's not very convincing, because he spends most of his time getting into funny out-of-time situations instead of romancing his dream girl.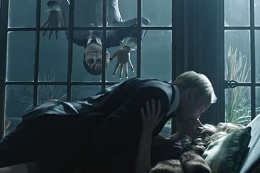 When the movie finally does start moving forward, it lurches and sputters. Key characters (like Heathcote, family matriarch Michelle Pfeiffer, and patronizing uncle Jonny Lee Miller, who gets leverage on Barnabas but never uses it) disappear for long stretches of time.
The pacing of Dark Shadows is very awkward, and some scenes seem to exist in their own universe entirely, having no bearing on the rest of the plot. If this is supposed to be some sort of satirical comment on the original TV show, which was famously erratic, then it was a bad choice. A late-movie revelation from Chloë Grace Moretz's character is completely out of left field (and doesn't serve any other real purpose than to be out of nowhere), as well as a finale that's a pretty big letdown.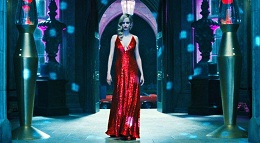 Eva Green steals the show, however, as a sexy and wicked witch who's as cracked as her smile. Her obssession for Barnabas isn't really explained, nor is the reason for her not aging, but Tim Burton clearly isn't interested in a film with clear-cut rules. That's easy to let slide.
As usual for Burton, the art direction is a treat (with less of a reliance on CGI than his last couple outings) and Depp does "weird" really well — but in order for soap operas to work, you have to want characters to get together and break apart.
Dark Shadows doesn't accomplish that. In fact, it has almost no forward momentum at all. Now that's really odd.