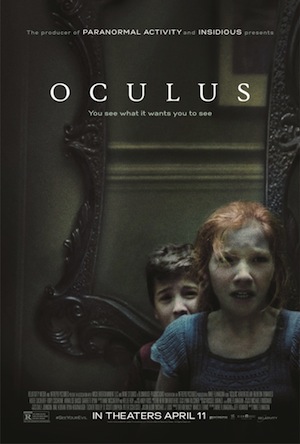 This review originally appeared on Lawrence.com. Video review from KCTV5.
The independently produced horror movie Oculus, which opens in wide release this weekend across the U.S., has all the markings of a Jason Blum-produced movie.
Filmed almost entirely in one house on a very low budget with two almost-name actors (Katee Sackhoff from TV's Battlestar Galactica and Rory Cochrane from Dazed and Confused), it adheres to the high-concept micro-budget ethos that has built Blum's reputation in Hollywood. He has turned an enormous profit on similar films in the Paranormal Activity series, Insidious: Chapter 2 and The Purge.
Mike Flanagan is the co-writer and director of Oculus, which was developed with co-screenwriter Jeff Howard from Flanagan's own 2006 short film. By design, it's a psychological thriller masquerading as a haunted house movie, and Flanagan wisely avoids cheap jump scares in favor of letting the dread develop naturally.
Karen Gillan, a Scottish actress mainly known for her role on Doctor Who, plays Kaylie, a twentysomething antiques dealer who has finally come into possession of a mirror with supposed supernatural powers. Her younger brother Tim (played by Brenton Thwaites) is recently released from a mental hospital, and she convinces him to spend the night with the cursed mirror in the house where their parents (Sackhoff and Cochrane) were murdered. Tim has finally come to grips that his own delusions were the real cause of their childhood tragedy, but his sister clearly hasn't.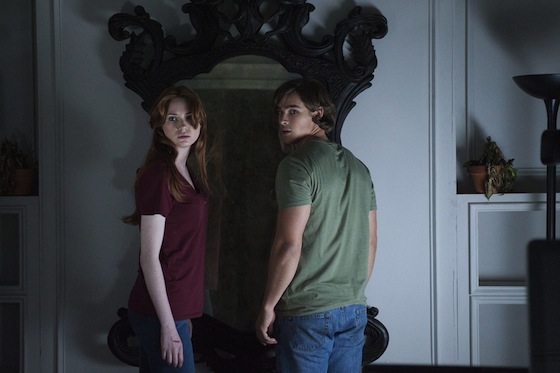 What's brilliant about the screenplay is that Kaylie introduces the "rules" of the mirror's power right away, as well as her own carefully constructed plan to thwart the mirror and exact revenge. The film then flashes back and forth to the present-day plot while strategically filling in the backstory of that awful night 11 years ago. It's an effective technique not just because it draws numerous parallels between stories, but because it constantly calls into question the sanity of all four characters.
Flanagan gets great mileage out of the fallible perspectives of Tim and Kaylie, putting the audience in their shoes as much as possible. How much of the narrative can we trust if the person conveying it has a possible mental illness?
Remove the supernatural threat and you have a film that preys on the sometimes scary dynamic of any dysfunctional family. Leave it in and you have a genuinely creepy ghost story that spotlights some nightmarish scenarios without resorting to gore.