This review originally appeared in shorter form on KSNT-NBC, KTKA-ABC, and KTMJ-FOX, Kansas First News.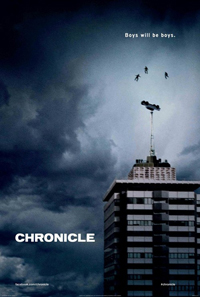 Chronicle is a clever new movie about three high school kids who suddenly get superpowers after coming in touch with something that is clearly not of this world.
What makes Chronicle different from every other superhero movie out there is that it's presented as found footage, meaning it's supposedly filmed by the teenagers, their friends, and existing security cameras. The movie has to cheat every now and then to cover the story more fully (who has edited all this found footage together so perfectly?), but thank God it does because the film is richer for it.
Like it did in the one-camera-POV monster flick Cloverfield, this certainly adds realism to the film, so that when the boys began to develop their powers, it really feels like it's happening right before eyes, and not like some fancy CGI effect.
First-time director Josh Trank, who co-wrote the story with Max Landis, do a good job of keeping the characters grounded and although there's the expected amount of rambunctious behavior, they also grapple with the bigger picture of what their abilities mean.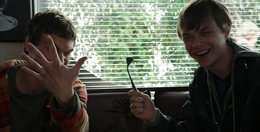 How the different personalities of underprivileged outcast Andrew (Dane DeHaan), his armchair philosopher cousin Matt (Alex Russell), and class-president wannabee Steve (Michael B. Jordan) clash in the face of their new-found abilities forms the heart of the film.
The first three-quarters of Chronicle is pure escapism and a ton of fun. Where Chronicle sets itself apart from something like the Paranormal Activity series, however, is that it actually has a compelling, well-developed story to tell.
In Spider-Man, Uncle Ben may have said "With great power comes great responsibility," but unless you're Peter Parker that's not always as easy as it seems. Chronicle ends up exploring the darker side of that quite successfully.