This review originally appeared in shorter form on KSNT-NBC, KTKA-ABC, and KTMJ-FOX, Kansas First News.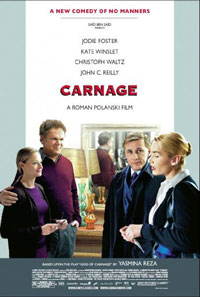 Carnage is a hilarious new comedy starring Jodie Foster, Kate Winslet, John C. Reilly, and Christoph Waltz as upper-middle-class parents in Brooklyn who are a little too self-obsessed.
The movie is unique because these four actors are virtually the only people in the entire film, and it all takes place in one apartment. But director Roman Polanski keeps things moving at a quick pace, so Carnage rises above its inherent cinematic limitations.
If anything, when the film feels claustrophobic, it's because its is supposed to. The characters in this movie certainly seem to exist in their own vacuum.
Based on the Tony-award-winning play God of Carnage, written by Yasmina Reza, the movie successfully sends up the attitudes and fears of modern adults.
Even though the two couples have gathered to have a "civil" discussion about a fight that their children were involved in, by the end of Carnage, it's clear that the parents may be way more childish than their sons.
Even though the movie still feels like a play, the performances and the biting dialogue more than make up for it, making Carnage a brisk, funny, nasty night out at the movies.