This review originally appeared in video format on KTKA-ABC, and KSNT-NBC: Kansas First News.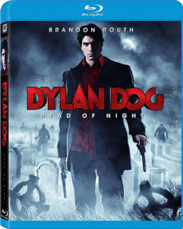 This week, two movies that mix supernatural elements with comedy and drama are out on Blu-ray and DVD. First up is "Dylan Dog: Dead of Night," starring Brandon Routh—who you may remember as Superman from Bryan Singer's underrated "Superman Returns"—playing a New Orleans-based private detective who specializes in vampires, werewolves and zombies.
The movie wants to be a combination film noir and horror comedy, but the timing is all off and the performances are flat across the board. Routh doesn't have the smart-ass attitude of a Bogart or a Cagney and the script is never even half as clever as anything from TV's popular cult hit "Buffy the Vampire Slayer." In fact, "Dylan Dog: Dead of Night" comes off as a second-rate "Angel" wannabe.
For those interested in the premise of this film, I'd recommend seasons 2 through 5 of "Angel," starring David Boreanaz. It has a deeper mythology and far richer characters to work with.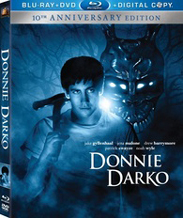 Speaking of cult hits, writer/director Richard Kelly's "Donnie Darko" gets the 3-disc Blu-ray/DVD treatment (with a digital copy) as both the 2001 Theatrical Cut and the 2004 Director's Cut are presented in the same set, billed as "Donnie Darko: 10th Anniversary Edition."
The movie that made Jake Gyllenhaal a star is one of those rare films that actually was better the first time.
The Director's Cut works too hard to explain the mystery behind what really happened to teenage misfit Donnie, while the theatrical one was more mysterious and ambiguous. It did a better job of tapping into that universal feeling of teen alienation.
The set includes three commentary tracks and lots of extras for obsessed "Darko" fans. Check it:
Disc One – Blu-ray
Original Theatrical Version and 2004 Director's Cut
Audio Commentary with Writer/Director Richard Kelly and Director Kevin Smith (Director's Cut)
Audio Commentary with Cast and Crew (Theatrical Version)
Commentary with Richard Kelly and Actor Jake Gyllenhaal (Theatrical Version)
Disc Two – DVD
Production Diary (SD, 52:54): A lengthy collection of behind-the-scenes footage, with optional commentary by director of photography Steven Poster
They Made Me Do It – The Cult of Donnie Darko (SD, 28:05): Fans, film critics, and artists discuss the film's impact in the U.K.
#1 Fan: A Darkomentary (SD, 13:18): In 2004, DonnieDarko.com held a documentary competition to find the #1 Donnie Darko fan. This is the winning entry.
Storyboard to Screen Featurette (SD, 7:58)
Director's Cut Theatrical Trailer (SD, 1:02)
Disc Three – DVD
Donnie Darko in Standard Definition
Director and Actors Commentary
Deleted/Extended Scenes with Optional Director Commentary
"Cunning Visions" Infomercials
The Philosophy of Time Travel Book
Website Gallery
"Mad World" Music Video
Art Gallery and Production Stills
Cast & Crew Info
Theatrical Trailer & TV Spots