This review originally appeared on KSNT-NBC, KTKA-ABC, and KTMJ-FOX, Kansas First News.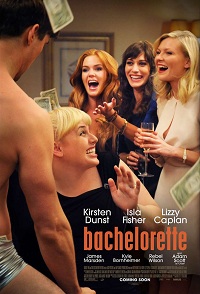 Even though it revolves around three Bridesmaids right before their friend's wedding, the new movie Bachelorette is a lot darker.
(Scene-Stealers contributor Vincent Scarpa liked Bachelorette even more than I did.)
Kirsten Dunst, Lizzy Caplan, and Isla Fisher are three women who have grown into adults but their minds are horribly hung up on high school. When they reunite to be bridesmaids for a friend's wedding, all of their insecurities come out in full force.
The raunchy comedy Bachelorette has its fair share of conflict as the women try to repair a torn wedding dress during the never-ending night before the wedding, but it's less concerned with slapstick and more concerned with the unhappy, aimless paths of its characters.
Mostly that's a good thing, as Leslye Headlund's screenplay—adapted from her own play—exposes the ugly side of holding onto high school while simultaneously poking fun at the absurdities of adulthood. Bachelorette is mean-spirited, and its humor derives from pain, which makes it unique and harder-edged than most comedies of this kind.
It's consistently funny, but it's also shame that Bachelorette lets most of its characters off the hook too easily, especially after being such a tough-minded film at the opening.