This review originally appeared in shorter form on KSNT-NBC, KTKA-ABC, and KTMJ-FOX, Kansas First News.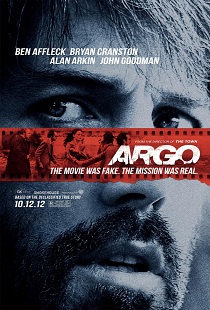 Argo is a traditional mainstream Hollywood thriller that mixes humor and serious life-and-death situations. It also has the extra bonus of "historical importance" because it's based on a true story.
Ben Affleck directs the film and plays a CIA officer who poses as a Hollywood producer in order to sneak into Iran during the 1980 hostage crisis and sneak out six U.S. diplomats, disguised as his film crew.
A brief prologue explains some of the political events that led up to the hostage-taking and reveals them to be more complicated than most U.S. citizens might remember, but Argo isn't interested in the whys, it's essentially a suspense story. The riot at the film's opening is very tense and Affleck grounds the film early on in the situation of the six embassy employees who flee for their lives.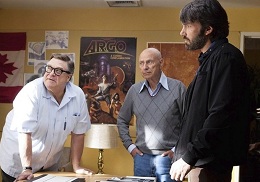 The recent events in Lybia draw a parallel that serves to make the film even more frightening. There's not a lot of real depth to the characters since this is an ensemble piece and every person gets just a little screen time and serves a distinct storytelling purpose, but Affleck gets winning performances out of all his actors.
John Goodman and Alan Arkin provide ample comic support as a producer and make-up guy who poke fun at Hollywood attitudes while also cooperating on this very real mission. On one hand, it's a welcome change in tone, but when the final reel of this true story begins to use every cheap suspense trick in the book itself, it seems like the pot calling the kettle black.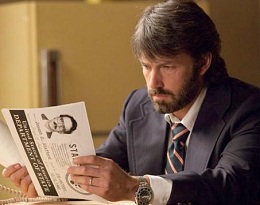 Even though Argo strains credulity to made the tension more palpable and the stakes higher during the escape itself, it has an undercurrent of heart that is unexpected. Despite all the jabs (one scene where an assistant keeps Goodman and Arkin from a critical mission directive so the film crew can shoot a fight scene is just too cheesy), that heart beats for Hollywood itself.
What I liked best about Argo—besides the fact that it's an efficient thriller—was the way it undercuts its own self-importance. In the end, the movies turn out to be something that people across all nationalities can get excited about and relate to, no matter how cheesy they are.