Video review from KCTV5 It's Your Morning. Subscribe to the Scene-Stealers YouTube channel.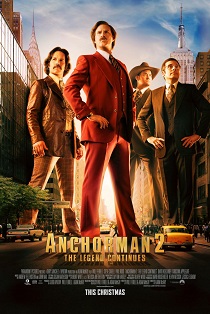 Brick Tamland, the dim-witted weather man from another planet played by Steve Carell in 2004's unlikely cult comedy Anchorman: The Legend of Ron Burgundy, is a fantastic absurdist creation. He stands out precisely because he's in a supporting capacity, spouting bizarre non-sequiturs as a counterpoint to Will Ferrell's clueless oaf. Both men behave like children, but Tamland is a distinctly weirder creation.
In the new sequel Anchorman 2: The Legend Continues, the very idea of Tamland encompasses everything that is both right — and wrong — about the movie.
The absurd streak of humor that runs throughout the movie (and sidetracks its forward momentum several times) is actually its greatest strength. Since the plot of Anchorman 2 is a typical get-the-team-back-together/comeback story, the film relies instead on the many absurdist curveballs that Ferrell and his co-writer and director Adam McKay throw into that template. Even more so than usual in a McKay/Ferrell collaboration, the movie feels like string of sketches very loosely tied together — as if the plot only exists to expose how stale these kinds of comedic blueprints are in the first place.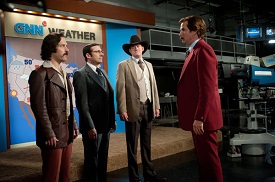 When the sketches work (and they often do), Anchorman 2 feels alive with possibilities. Nothing is off limits it seems, not even a musical interlude where Burgandy sings a love song to a baby shark. A strange second-act detour with Burgundy's wife Veronica Corningstone (Christina Applegate) and son (Judah Nelson) may make audiences a little antsy, but it's also gleefully unpredictable.
But once it's back to the "story," all the beats are forced and the overly expositional dialogue has no sting, as it exists merely to set up the next sketch. The artificial nature of the story is part of the point, of course, but there's not a strong enough satirical streak here to keep it afloat. And, unfortunately, Anchorman 2 can't be categorized as a Airplane!/Naked Gun-style gag-a-minute-comedy because the gags just don't come quick enough, especially for a two-hour film.
One particular black hole the movie falls into is that it gives Tamland — who works best in small doses — a romantic subplot. Even worse, it does so by introducing a female character (Kristen Wiig) that is almost an exact clone of Tamland. Every scene between these two talented comedic actors feels like a wasted opportunity.
For a movie that devolves into madness as often as it does, the satirical bent of Anchorman 2 plays it surprisingly safe, consisting of easy swipes at the 24-hour news cycle and the networks' propensity for creating news where none actually exists. This commentary is good for a couple of laughs, but gets off the hook a tad too easily for being dated because the film takes place in the 1980s.
Finding a satisfying conclusion to a hit-and-miss two-hour comedy that makes little to no sense is a challenge for sure. McKay and Ferrell's solution is to go full-on Return of the King and have at least four endings, none of them hitting the right notes. A series of cameos seems destined to go somewhere funny, but mostly it fizzles under the weight of its own expectations, much like the rest of Anchorman 2: The Legend Continues.