This review originally appeared in shorter form on KSNT-NBC, KTKA-ABC, and KTMJ-FOX, Kansas First News.
If you don't count the four direct-to-video spinoffs that contained no original cast members other than Eugene Levy, American Reunion is the fourth movie in the American Pie series.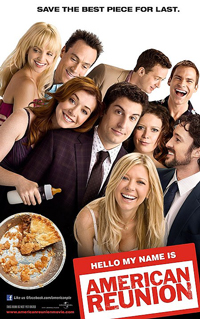 I'm not sure who gets together for their 13th high school reunion (a pretty shaky excuse for a sequel, but we'll let it slide), but Kevin (Thomas Ian Nichols), Finch (Eddie Kaye Thomas), Oz (Chris Klein), Jim (Jason Biggs), and Stifler (Seann William Scott) are all back together for another movie full of raunchy, gross-out humor and the pangs of sexual frustration.
Seeing as how this is essentially a teen comedy about guys in their early 30s, some of the laughs are kind of creepy and uncomfortable, but directors Jon Hurwitz and Hayden Schlossberg—the guys responsible for the Harold & Kumar series—have tons of genuine affection for the characters.
It's too bad because the script is uneven and a lot of the subplots about the characters' mid-life crises are really forced. Many of these actors—most whom we haven't seen in a while—fail to deliver them effectively either, so that when the movie isn't just going for straight-up laughs, it's pretty tired stuff.
As usual, all the female parts are completely underwritten, but a couple of the comedy set pieces—especially the ones involving Stifler—are actually pretty funny.
What's surprising about American Reunion is that, despite it not being a very good movie, it manages to create a good amount of nostalgia for its characters, even if you don't remember too much about the 1999 original.
American Reunion is a movie that thrives on creating and mining awkward moments for laughs. Unfortunately, a lot of those awkward moments are unintentionally created when some of its minor characters devolve into cheap sentimentality and dime-store psychology.