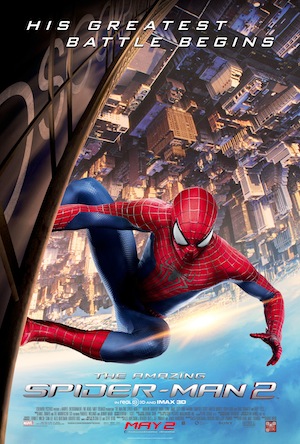 This movie review originally appears at Lawrence.com. Video review with clips coming soon from KCTV5 It's Your Morning.
At its best, The Amazing Spider-Man 2 is a deeply felt story of two young people who realize they are in a doomed relationship, but are too madly in love to stay apart.
As Peter Parker and Gwen Stacy, Andrew Garfield and Emma Stone (who became a real-life couple during the filming of 2012's The Amazing Spider-Man) radiate onscreen chemistry. And although they are both too old to play just-graduating high school students, it doesn't really matter because of the obvious electricity being generated.
At its worst, The Amazing Spider-Man 2 — the second in a series that was rebooted just five years after the Tobey Maguire-led one died — is the ultimate litmus test for audiences who may be experiencing superhero fatigue.
It took new franchise director Marc Webb only two movies to essentially reach the point where old franchise leader Sam Raimi was on Spider-Man 3 — that is, a breaking point where there are too many supervillains and interweaving storylines for anything too truly take root.
With a total of four screenwriters (including the prolific and recently broken-up fantasy-franchise team of Roberto Orci and Alex Kurtzman) credited on the movie, I expected a frazzled kind of screenplay-by-committee approach. Knowing that Paul Giamatti, Jamie Foxx and Dane DeHaan were cast as comic-book mainstays Rhino, Electro, and the Green Goblin, respectively, I also expected lots of action and underdeveloped backstories.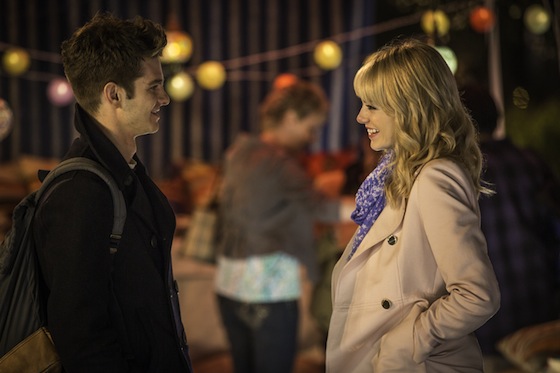 Yet, like the first of Webb's series in 2012, I was eventually won over by the film's strict adherence to comic-book conventions and the keenly understood duality that is Spider-Man, a teenaged pop-culture icon that has endured since 1962 when he was created by Stan Lee.
Sometimes, The Amazing Spider-Man 2 feels like a movie from 1962. Foxx plays engineer Max Dillon the way Jerry Lewis might have played him, complete with greasy hair, pens in his shirt-pocket, and his pants pulled up too high. He's an over-awkward and nerdy cliché in an age when being a nerd means something quite different than it did in the '60s. (The nerds 50 years ago didn't get $200 million movies created just for them.)
Foxx's broad portrayal matches that of Giamatti, who hams it up to the nth degree, has zero backstory, and whose scenes exist essentially as a framing device. DeHaan fares better as a believable character, despite having to play catch up. Garfield and DeHaan make up for lost time quickly as orphaned Peter and his old pal Harry Osborn, having just lost his absent father, define their relationship as one based on shared loss.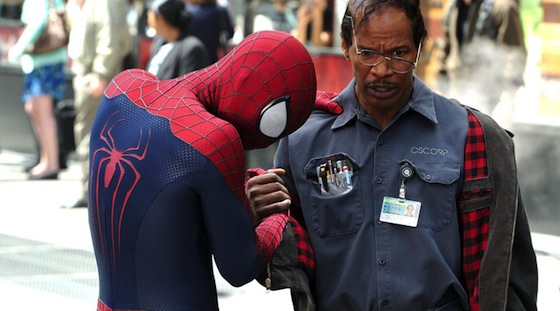 Eventually, it's this simple and smart adherence to what makes Spider-Man a great character that drives the film and keeps it resonant: It is easier now for people to relate to strained or missing paternal ties, both emotionally and physically.
That doesn't mean there aren't monstrous displays of the latest in 3-D computer-generated special effects and plot holes big enough to drive a hijacked truck full of plutonium through.
I will admit that seeing Spider-Man glide effortlessly through skyscrapers and traffic using his web shooters while cracking wise is still one of modern cinema's greatest nostalgic pleasures, and Webb's addition of the POV shot (also used in The Amazing Spider-Man) has added even more thrill-ride excitement to it. Some of the action scenes hearken back to the bullet-time stylings of The Matrix and prove an effective illustration of Spider-Man's ability to make multiple split-second decisions while flying through the air, while others, for all their amazing detail and actualization, still feel like watching a video game.

As cutting-edge as its technology is, The Amazing Spider-Man 2 stubbornly adheres to old-school comic conventions. When it's not tending directly to the emotional core of Peter Parker, it can sometimes feel like an episode of the cheesy '60s Batman TV series. This may drive some audiences batty, but after I chose to accept it as a kind of classical tribute, I found the throwback strategy quite charming.
So it was even more of a surprise, then, to be so entirely moved by the film's climax, followed by a creeping sense of disappointment as the movie tacks on an obligatory epilogue that sets up the next film.
In an age when a new superhero movie opens every couple weeks — over a summer that starts earlier every year — it doesn't really stand out as anything groundbreaking. But it knows exactly what it is, and playing with classic themes that haven't changed over 50 years means it will probably have a shelf-life of at least another 50.