This review originally appeared in shorter form on KSNT-NBC, KTKA-ABC, and KTMJ-FOX, Kansas First News.
Steven Spielberg's long-awaited biopic of Abraham Lincoln is due this Christmas, but this weekend moviegoers will get a very different take on our 16th President.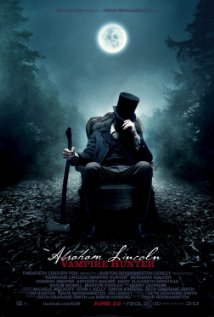 If you've ever wanted to see Abraham Lincoln (Benjamin Walker) fight a blood-sucking vampire in 3D while twirling an axe on the backs of a full-on horse stampede, this is your movie.
Action movies are known for being over the top, and more than any film in a long while, it's hard to fault Abraham Lincoln: Vampire Hunter for having unrealistic action scenes. As you can probably tell by the title, this is not a movie that's interested in depicting reality.
No, Abraham Lincoln: Vampire Hunter revels in its fraudulence, wearing it proudly. In this movie—based off of the book by Seth Grahame-Smith who also wrote Pride and Prejudice and Zombies—the South is full of slave-owning vampires who start the Civil War as part of a plot to take control of the country.
There are two reasons why this ridiculous R-rated action/horror movie with zero high-minded aspirations works. First, the actors play it completely straight and they let the mashup of history and mythology be its own joke.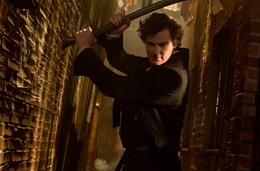 Secondly, director Timur Bekmambetov outdoes himself with some truly jaw-dropping action set pieces. Besides the vampire attacks being particularly violent and sometimes pretty scary, there are no limits to the amount of slo-mo choreographed mayhem and near-misses onscreen. It's like the actors and props are part of an elaborate Rube Goldberg contraption, held together with duct tape and CGI. Bekmambetov not only stages these scenes with flair, but they're easy to follow — a nice break from the shakycam of more "serious" action films.
On the downside, the movie is a little long to support its creaky premise and it features some pretty rote setups — like the inevitable training montage, where master vampire hunter Henry Sturges (Dominic Cooper) shows Abe how its done. Even then, it's kind of a gas to see Lincoln pouring silver on his axe.
Usually I applaud movies that don't use 3D as a gimmick, but since this whole film is a gimmick, it's tough to complain.