My TV review with clips of 2 Guns on KCTV5′s It's Your Morning will be posted as soon as its available.
Here's a longer version of  the review that originally appears on Lawrence.com: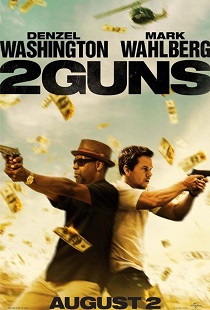 Icelandic director Baltasar Kormákur studied the buddy movie classics before he got behind the wheel of 2 Guns, starring Denzel Washington and Mark Wahlberg. He cites Midnight Run and Butch Cassidy and the Sundance Kid as high points of a film genre that lives and dies by the witty banter and easy chemistry of its two lead actors.
Luckily, Washington and Wahlberg have that even when the plot gets needlessly complicated — an attribute of virtually every crime movie these days. In fact, it's the casting of 2 Guns, which sports as familiar a formula as can be, that keeps it breezy and fun for most of its 105-minute running time.
Washington has his usual swagger and toothy grin, while Wahlberg is in his hyperactive and confident mode, but behind it all are two guys desperate for a win. It's actually pretty fun rooting for the bad guys until it's eventually discovered that neither are the petty criminal they've led the other to believe they are.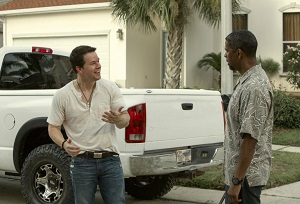 Much of the rapid-fire dialogue has an improvisatory feel, and 2 Guns gets a lot of mileage out of forcing them apart, knowing the audience wants them back together again as soon as possible.
Bill Paxton and Edward James Olmos, two actors who know how to ham it up when the movie calls for it, are great fun as two of the multiple heavies that are after our scrappy heroes, and James Marsden is perfectly smarmy as a Navy SEAL commander with a big plan.
The screenplay, written by Blake Masters and based on the graphic novel from Steven Grant, uses its flashbacks strategically and metes out its suspense just enough to keep people on their toes. By the end of the movie, though, it's almost as if even Masters has given up trying to keep track of everybody's loyalties and understands that it's time to give the bad guys their just desserts.
2 Guns certainly doesn't reinvent the buddy-cop action flick genre, but it does play to its strengths without taking itself too seriously, which is where many of its brethren get tripped up.