Finding a good romantic comedy to watch on Valentine's Day (or in this case Valentine's weekend) is often a chore. Usually couples will want something that follows a certain familiar trajectory and ends with a happy ending, but so many of the romcoms out there tend to do this in the most insulting way.
Austenland, out on Blu-ray now, may not be the perfect romcom, but at least the setting is refreshingly different and it has a couple of joyously over-the-top performances. Ultimately, it is an interesting diversion that holds a lot of promise at first, is pleasant but generally underdelivers throughout, and then almost redeems itself with a last-minute twist that almost makes sense considering  the movie's core weakness.
Shannon Hale wrote the novel on which Austenland is based, and she also co-wrote the screenplay with the film's director Jerusha Hess. An early montage shows us how obsessed Jane (the always charming Keri Russell) has been with the novels of Jane Austen since high school. Now, as a single thirtysomething, she still holds on to the Austen ideal of a perfect romance, and would rather watch the 1995 BBC miniseries of Pride and Prejudice than interact with an actual man in real life.
Luckily, there is an immersive summer camp kind of experience waiting for her overseas in Austenland, where actors in period costumes play out the typical Austen roles as women like Jane live out their fantasies. Like strippers, however, there is no actual intimacy at Austenland. As we meet the men who populate Austenland, it's clear from the beginning which one is Mr. Darcy. One weakness of the screenplay is that the biggest Jane Austen fan in the world goes through the same hate/love relationship as Elizabeth Bennet in Pride and Prejudice, but can't see what's happening until waaaaaaaaay afterwards.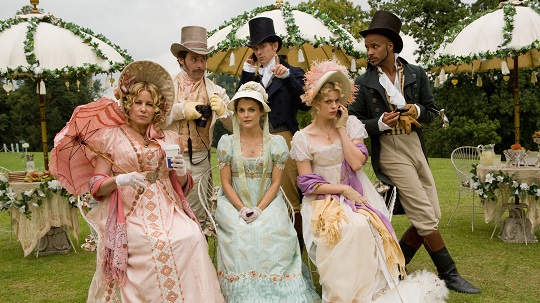 Come to think of it, I'm sure the book was that way as well, so maybe it's a matter of not finding the right tone or Jane not establishing enough of a believable connection with the wrong guy. For the benefit of those who haven't read Austen or won't see the plot coming a mile away, I won't reveal who's who, but Jane has two romantic suitors and scenes on both sides are miscalculated. Once the twist happens towards then end, however, it almost serves as an excuse for why there was no real spark between the two.
That said, Jennifer Coolidge and James Callis make the most of their underwritten roles with broad, fearless comic performances and are responsible for 90 percent of the laughs in Austenland. They may seem like they're in a different film, but at least they're fun to watch. Poor Jane Seymour doesn't have anything to do but play one sour note the entire time. Russell is perfectly cast,* even as you wonder how she could possibly not be a little smarter about her situation. (But isn't that the core problem with all romantic comedies? Do screenwriters just expect that the audience wants to be one step ahead of the characters all the time?) Scene-Stealers contributor Alan Rapp found more to love about Austenland than I did.
The commentary track features Hess (also the co-writer of Napolean Dynamite and Nacho Libre) and producer Stephenie Meyer (who wrote the Twilight novels and produced this film).
*In the 30-minute cast/crew Q&A that's included as an extra, Hess reveals that she had written the movie with Russell in mind the entire time.