This review originally appeared on KSNT-NBC, KTKA-ABC, and KTMJ-FOX, Kansas First News.
Two movies out now on Blu-ray and DVD highlight completely opposite ends of the production spectrum. Here's a review of a big-budget fantasy flick and a low-budget comedy that looks bad on purpose.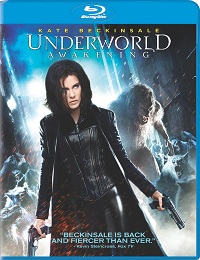 Underworld Awakening (2012)
You can get the fourth movie in the lucrative Underworld franchise on DVD, Blu-ray or 3D Blu-ray. Either way, it's going to look sleek and perfect with its cold, dark-blue color palette and Kate Beckinsale's piercing blue eyes.
As she swirls around in her tight leather suit killing Lycans in all kinds of ways without breaking a sweat, you may notice the excellent surround-sound presentation as well. You'd have to, because nothing in the story itself will keep you engaged.
Underworld Awakening is more like Underworld Sleepwalking, as all the "characters" go through the motions so the filmmakers can show off what a slick product they have.
I suppose fans of the series will be pleased with the hi-def look and lots of extra features, such as filmmakers' commentary with directors Måns Mårlind and Björn Stein and more, five making-of featurettes, previsualization sequences, a blooper reel, and an awful music video.
Tim and Eric's Billion Dollar Movie (2012)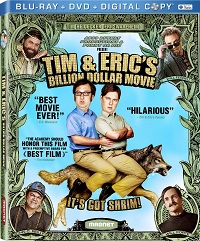 Tim and Eric's Billion Dollar Movie, on the other hand, is a bizarre comedy from the stars of Adult Swim's Tim and Eric Awesome Show Great Job! and it's as gleefully offensive and low budget as movies get.
As fans of their show will expect, Tim Heidecker and Eric Wareheim alternate between clever and gross-out humor within seconds, skewering phony Hollywood personalities and tired and naïve Hollywood plotlines, all while getting an assist from guest stars Will Ferrell, John C. Reilly, and Zack Galifinaikis.
It's funny in 11-minute bursts like their TV show, but Tim and Eric have a hard time stretching it out to 90 minutes. These guys are frequently brilliant, but the movie is a near-miss and the extra features are as random and patience-testing as the duo's humor can be sometimes.
Any capsule review like this for TV is tough to do justice in 30 seconds. I encourage you to read my full-length review of Tim and Eric's Billion Dollar Movie.