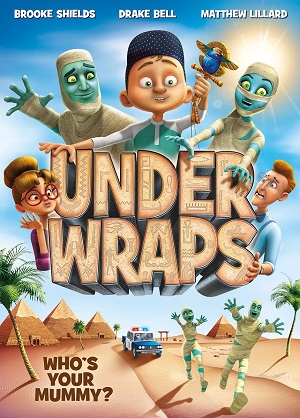 [Rock Fist Way Down]
It's hard to say a lot about a kids' movie as straightforward as Under Wraps (Available now on DVD), so I'm not even going to sugarcoat it for you today.
Danny is always getting into trouble and breaking things, despite his good intentions, so when his parents tell him not to venture into the pyramid they're studying, naturally he ignores their wishes and takes an amulet, waking up the pharaoh and setting a curse on his parents in the process, turning them into mummies themselves.
You're truly not getting anything more than face value here with Under Wraps. It's like drinking a glass of water: no flavor, and you probably wanted to drink something else anyway. I can't really complain too much about voice acting because the target audience here is children about 30% of my age (for perspective, I'm 22). Maybe the kids will like it, but the parents probably won't. Drake Bell is listed as the biggest name attached to the film, however he voices a one-shot character in the supermarket, not a main character of any actual relevance to the plot.
In the film you'll find plenty of kid-friendly humor such as body parts falling off the mummies and wandering around a la Thing from the Addams Family, and more dad-joke'd puns than you can shake a talisman at. It manages to teach a few lessons, mainly through Danny's cell phone-addicted sister, Eleanor.
The film is only forty-eight minutes long, so at least it isn't agonizingly long, I guess, but still.
My advice?
Wait for the kids to grow up a little more and show them The Mummy instead. You get all the classic tropes that show up in Under Wraps, however the package they're wrapped in is immensely more palatable.
But for a kids' movie, I guess it does what it needs to in that it is free of vulgarity and teaches a few basic lessons for kids, but is so devoid of character that ultimately the entire experience is forgettable.