This review originally appeared in shorter form on KSNT-NBC, KTKA-ABC, and KTMJ-FOX Kansas First News.
The Three Stooges (2012)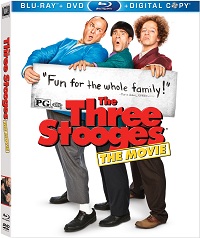 The Farrelly brothers, the directors responsible for Dumb and Dumber and There's Something About Mary try their hands at family entertainment with a movie that's right up their alley: The Three Stooges.
Sean Hayes, Will Sasso, and Chris Diamantopoulos do their best impression of Larry, Curly, and Moe in a movie that feels quaint and outdated, even if it does feature a scene where Moe takes a chainsaw to Curly's bald head.
Of course, the film is filled with dumb gags and over-the-top slapstick, but what I wasn't prepared for how that kind of made it refreshing, believe it or not.
The midly clever conceit is that these misfits — who may have been dropped off from around 70 years ago — are innocently making their way through modern life. Breaking the film up into three "short films"  also helped break up the film.
The new Three Stooges is a real comedic curiosity—its short, it doesn't overstay its welcome, and it's funny enough to just skate by. The extra features on the DVD and Blu-ray don't add up to much, though.
Here's my full length review of The Three Stooges.
Footnote (2011)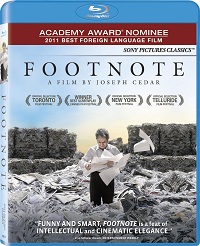 Footnote, however, is a comedy that doesn't really fit into any category. Nominated for Best Foreign Language Film at the Oscars this year, the central conflict is based on a small mistake with big consequences.
When a secretary calls the wrong religious scholar to tell him he's won a big award, it brings a father/son rivalry (between stubborn  Shlomo Bar-Aba and Lior Ashkenazi) into focus with funny and touching results.
Footnote is lighthearted in tone—which is key to its success, even though it deals with serious family issues and also spotlights the stubbornness and hypocrisy of academic world.
Director Joseph Cedar keeps the pace quick and transitions with onscreen titles give Footnote energy, with some help from  a funny script that zigs just when you think it will zag. It's a family comedy of a very different kind than The Three Stooges.
A 24-minute behind the scenes package and a nine-minute interview with the director after a screening shed some light on the film's inspiration and actors. It's fascinating enough and worth watching just to hear about the real-life phone call that Joseph Cedar received that gave him the idea for Footnote.
Here's Scene-Stealers contributor Trey Hock's full-length review of Footnote.