This review originally appeared in shorter form on KSNT-NBC, KTKA-ABC, and KTMJ-FOX, Kansas First News.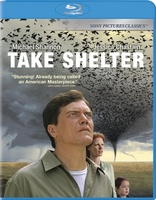 Take Shelter (2011)
Out on Blu-ray and DVD now are two of the best movies of last year whose names you didn't hear at the Oscars. Despite Michael Shannon's powerhouse lead performance in the psychological suspense drama Take Shelter, he was somehow left out of the Best Actor race.
Shannon plays a rural father with schizophrenia in his family history who starts to see crippling visions of an impending storm and takes drastic steps to protect his family. In reality he's really tearing them apart. Take Shelter is a frightening metaphor for the nation's current economic climate, but the bond between Shannon, his wife (Jessica Chastain), and daughter (Tova Stewart) is strong throughout the picture and his hard-fought best intentions—no matter how crazy they look to everyone else—make him an easy guy to root for.
Bonus features: Director Jeff Nichols and Michael Shannon are on the audio commentary track, there is a 10-minute Behind The Scenes featurette, two deleted scenes, and a 20-minute Q&A with Michael Shannon and co-star Shea Whigham.
Read my full-length movie review of Take Shelter.
Martha Marcy May Marlene (2011)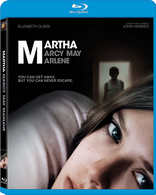 Martha Marcy May Marlene is also anchored by an incredibly soulful performance not nominated for an Oscar. Elizabeth Olsen plays a fragile young woman who escapes from a cult and goes to live with her sister. On top of that strained relationship, the adjustment is extremely difficult for her.
The masterstroke of this film is that director Sean Durkin only reveals why Martha is so messed up in flashbacks that are constructed to mirror her fractured mental state. Olsen plays the role with a chilling amount of honesty and the movie creeps up on you and leaves you in a completely paranoid state, just like Martha.
Bonus features: Mary Last Scene — a 13-minute short film that is a prequel of sorts for the movie, 5 featurettes that are an average of 4 minutes each, and a music video for co-star John Hawkes' song in the movie where he plays it in the studio.
I also put Martha Marcy May Marlene on my Top 10 Movies of 2011 list, but Scene-Stealers contributor Trey Hock didn't agree with me about Martha Marcy May Marlene.
These powerful dramas are two of last year's best movies and are not to be missed.