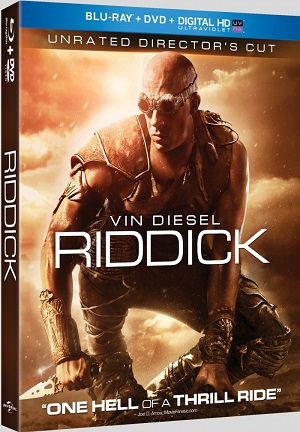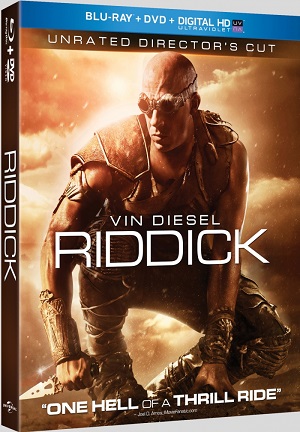 Riddick (2013)
The theatrical cut of Riddick, the third movie release in what is now being called the Riddick Trilogy (following 2000's Pitch Black and 2004′s The Chronicles of Riddick), had a good amount of R-rated violence and the requisite amount of random nudity to satiate its fans.
Now that the sci-fi/action movie, starring the laconic Vin Diesel, is out in an Unrated Director's Cut next week on a Blu-ray/DVD/Digital Copy Combo Pack, there's eight additional minutes of added footage. Although it's hard to tell exactly what was added, outside of a little more backstory, this will no doubt be a selling point for fans.
You see, there's a ton of backstory, because the last film put bounty hunter anti-hero Riddick in the throne on another planet as ruler of the Necromongers. (Stick with me.) But in order to get Riddick back to bloody, tough-guy basics and away from the plot-heavy, winking adventure of the PG-13 Chronicles, writer/director David Twohy strands Riddick on a strange world filled with dangerous alien creatures. He also becomes hunted by other humans, and must rely on his cunning to survive. This gets back to what made the low-budget surprise hit Pitch Black successful, and it works in spurts in Riddick. Twohy knows how to establish suspense, he just needs a better script to hang his action sequences on.
Even at two hours, though, the film wears out its welcome, and it's pitiable stabs at humor don't do much to help. If the $30-something-million-budgeted Riddick was a test to see if there was still an audience for Diesel's macho delivery and scrappy B-movie thrills, I suppose it did. The film almost made $100 million worldwide, so there may be a sequel around the corner, and hopefully Diesel and Twohy can come up with something more entertaining than this workaday third installment.
The Combo Pack includes five featurettes covering various aspects of the production, all between six and 11 minutes, plus a 5-minuted motion comic called Riddick: Blindsided. It's paltry stuff for a film with such a rabid cult following, and it makes me wonder if a special edition may be on the way in the near future.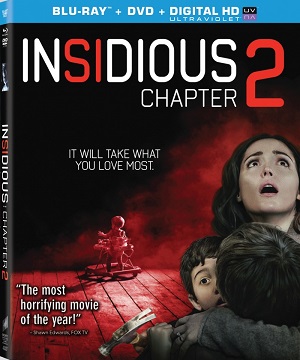 Insidious Chapter 2 (2013)
The second movie in director James Wan's horror series Insidious became another midcult success story from 2013 — even more so than Riddick.
Made for an amazingly low $5 million budget and without gore, the the PG-13 Insidious Chapter 2 earned not only $161 million globally, but it helped propel Wan (along with The Conjuring) into the director's chair of the seventh installment of  the truly big-time Vin Diesel franchise Fast & Furious.
Insidious was a straightforward haunting tale, while Chapter 2 deepens the mythology, since the twist of the first film revealed something pleasantly surprising. This gives lead actor (and Wan mainstay) Patrick Wilson more shades to play and takes the story in some interesting directions. There are a fair amount of cheap jump scares, and a typical string-heavy score to accompany them, but Insidious Chapter 2 eventually evens out and settles into a nice, creepy atmosphere.
Without giving too much away, let's just say that there is "another world" in Insidious Chapter 2. Wan proves that he has the stuff, keeping it ethereal, but defined just enough to be scary. Again, the lack of budget probably worked to great effect here, forcing Wan and screenwriter/co-star Leigh Whannell to get more creative. It's a treat to see old-school film technique and makeup design rather than an overabundance of CGI work.
Unlike many sequels, Insidious Chapter 2 brings back everybody from the first movie (Rose Byrne, Barbara Hershey, Lin Shaye, and Jason Blum), and they're all like one happy family, reunited also for a 23-minute on-set Q&A and a 15-minute behind the scenes featurette. Three more featurettes under 10 minutes and three short webisodes round out a pretty substantial amount of bonus content on this new Blu-ray/DVD/Digital Copy Combo Pack, out now.