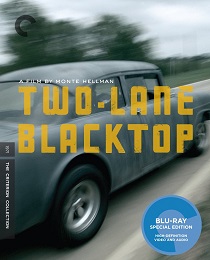 It's accurate to say that Universal Pictures had no idea what they were getting when they agreed to finance director Monte Hellman's low-budget 1971 "car movie" Two-Lane Black Top.
Knowing that films like Easy Rider and The Graduate had permanently changed the studio landscape, and trying to cash in on the same counterculture that embraced those trailblazers, Universal gave Hellman final cut and a budget of $850,000. They probably wanted an exciting film filled with fast cars and faster women that would match up with their souped-up tagline for the movie: "Their lives begin at 140 m.p.h.!"
What they got was a quiet, existential masterpiece that has turned into a bonafide cult classic.
The Criterion Collection's Blu-ray edition of Two-Lane Blacktop is an HD transfer with a 5.1 surround sound mix and lots of great extra features.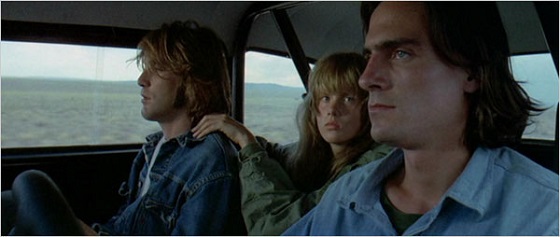 Musicians James Taylor and Dennis Wilson (from the Beach Boys) play The Driver and The Mechanic, two guys who don't talk much, but get their kicks racing a souped-up '55 Chevy on the streets of California. They develop a rivalry with GTO (Warren Oates) as they head out on Route 66 and pick up The Girl (Laurie Bird), a hitchhiker, in Arizona. Oates is a lonely loudmouth and drives a flashy new 1970 GTO. At a gas station, the two camps challenge each other to a cross-country road race for ownership of the other person's vehicle.
But this ain't no Cannonball Run.
The fact that Taylor and Wilson are relatively inert non-actors plays into the reflective mood of the movie and the depth of their car obsession. Both men are virtually silent, and when they do speak, it's usually about whatever matter is at hand — which is usually maintenance on the car. The car is what they relate to, not each other. Hellman takes advantage of the lack of outward emotion from his non-actors to emphasize each character's solitude.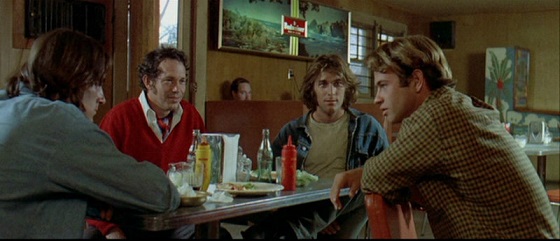 When The Girl comes between The Driver and The Mechanic, they clam up even more and a chasm develops between them. Of course, it helps the film that she's a chatterbox because its a metaphor for the disruption she's caused between two guys who feel more comfortable listening to the calm of a whirring motor.
Oates is fantastic as GTO, which is one of the best and most well-rounded performances of his career, especially considering that the movie is otherwise in such a minor key. He is another study in polar opposites from the street racers, as his eagerness to pick up hitchhikers and talk their ear off appears to be borne out of a desperate need for companionship rather than an altruistic streak. It takes a while for the inherent sadness of all the characters to kick in, but the slow pace and unburdened narrative style are well-suited to the melancholy.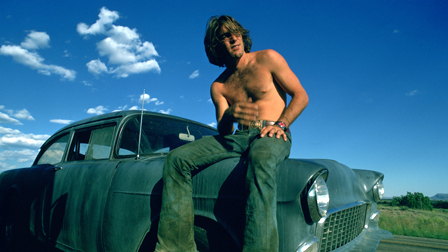 Hellman makes the most of the many car-interior shots, with a camera perspective that puts you in the vehicle with the characters, helping you identify with them. The landscapes and the speeding road are all the more beautiful in ultra-widescreen mode. (It was shot in Techniscope, a process that exposes 35mm film two perforations high instead of the normal four, resulting in a 2.35:1 picture.) Because Hellman and his crew shot the film on location across the country without permits, Two-Lane Blacktop also serves as a nostalgic travelogue for a pre-Interstate road that doesn't really exist like that anymore.
Universal may have thought with Two-Lane Blacktop that they were getting a rip-roaring teenage-oriented open road-race movie, populated by rock stars and a wild soundtrack, but instead they got something that will last a lot longer — a still film about people in search of something that's always just out of reach; a movie that's very much of its time, but completely timeless in its theme.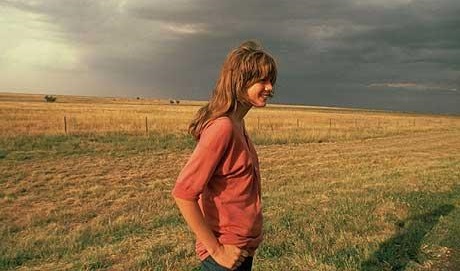 Two-Lane Blacktop comes with two audio commentaries: one by Monte Hellman and filmmaker Allison Anders and one by screenwriter Rudy Wurlitzer and author David N. Meyer. There's also interviews with Hellman, James Taylor, musician Kris Kristofferson (whose original version of "Me and Bobby McGee" is one of few rock songs on the soundtrack), producer Michael Laughlin, and production manager Walter Coblenz.
Rare screen test outtakes of Taylor and Bird and a look at the restoration of a '55 Chevy used in the movie and the film's locations in 2007 round out this highly recommended excellent package.