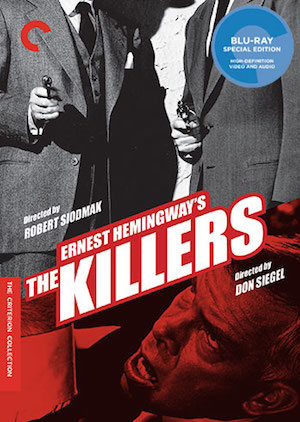 [Rock Fist Way Up]
The 1927 Ernest Hemingway short story The Killers was adapted to film twice in a span of less than 20 years, producing two fantastic films which share some of the same themes, but in every other respect couldn't be farther apart. The fact that The Criterion Collection has updated their previously issued double-movie DVD and has just released it on Blu-ray is real cause for celebration.
Don Siegel was first contacted about adapting the story, but eventually it was Robert Siodmak who first brought it to the screen in 1946. Siodmak's version is probably best remembered for its super creepy opening scene, which is very faithful to the Hemingway short story, taking dialogue straight from the page.
Two hoodlums (William Conrad and Charles McGraw) walk into a diner oozing menace, and start to infer all kinds of trouble. In fact, this scene (more than any other not featuring Humphrey Bogart) typifies what people think of when they think of classic film noir.
Al: You got anything to drink?
George: I can give you soda, beer, ginger ale…
Al: I said, 'You got anything to drink?'
George: [intimidated] No.
Al: This is a hot town. Whatta ya call it?
George: Brentwood.
Al: Did you ever hear of Brentwood?
Max: [Max shakes his head, no]
Al: Whatta ya do here nights?
Max: [sarcastically] They eat the dinner. They all come here and eat the big dinner.
George: [showing fear] That's right.
Al: [condescendingly] You're a pretty bright boy, aren't you?
George: [intimidated] Sure.
Max: [contemptiously] Well you're NOT!
Max: [to Al] Is he Al?
Al: He's dumb!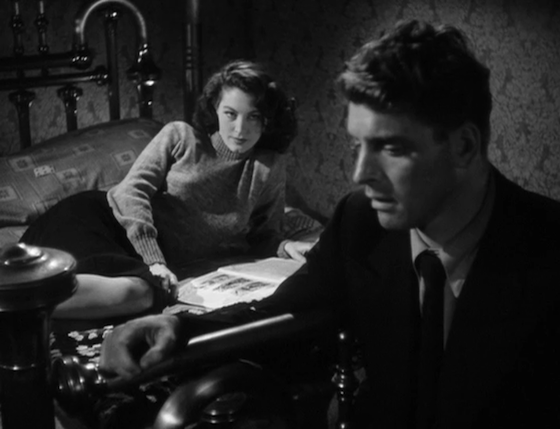 All the classic noir staples are there in 1946's The Killers: Shadowy black-and-white cinematography, the sexy femme fatale (Ava Gardner), the doomed protagonist (Burt Lancaster), and the dogged investigator (Edmond O'Brien). What makes it special is that once the intense opening scene is finished (which in itself concludes with a surprise), the movie darts around in time, constantly surprising and adding more depth to the character of the Swede (Lancaster).
Thee is a heist, but the great mystery isn't a whodunit at all. Rather, it's a psychological exploration of a man who was so worn down by life that he merely gave up. O'Brien pursues the murder case out of a curiosity — not one that arises to find the motives of the killers, but instead the motive of the Swede to accept his fate.
Siegel changes virtually everything else in his 1964 version of The Killers, but the central core of the story remains, even while the focus switches from the protagonist (John Cassavetes) to one of the killers (Lee Marvin).
Instead of Lancaster's small-town guy down on his luck, Cassavetes is a race-car driver. The Gardener role is filled by Angie Dickinson, and the sly innuendo is replaced by sheer brutality, as Marvin and Clu Gulager skip the double talk and just beat the crap out of people to get what they want.
Siegel's The Killers, shot in color and with a 1.34:1 square aspect ratio, was originally made for TV but was deemed too violent. It's easy to see why, and not only because virtually every character in the film dies. The investigator here is Marvin, one of the killers, whose obsession with the "why" of Cassavetes' life leads him down a way darker path than O'Brien in Siodmak's version.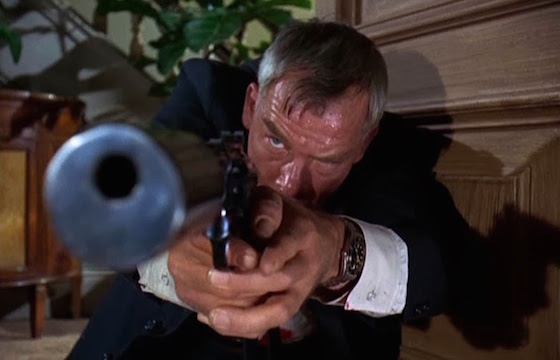 In the extra features, it's mentioned that Siegel was pissed that his film was officially titled Ernest Hemingway's The Killers because so little of the short story actually remains. It's understandable from a marketing standpoint why the studio would want to do that, but Siegel was right to be angry. His low-budget neo-noir is really a different kind of riff on the story's themes and the genre. It also serves as a bit of foreshadowing for his violent 1971 hit Dirty Harry.
There's a ton of great extra supplements on both movies on this value-packed Blu-ray. An interview from 2002 with writer Stuart M. Kaminsky is very insightful and compares both films, while a 2002 interview with Clu Gulager has some great personal reflections of working on the Siegel film. When Andrei Tarkovsky was a film student in 1956, he made a short film adaptation of the short story, and it appears on this disc as well. It's a curiosity, and only really needs to be viewed once. Both versions of this movie, however, are iconic classic in their own right, and I can't recommend this Criterion Blu-ray any higher.