This review originally appeared on KSNT-NBC, KTKA-ABC, and KTMJ-FOX, Kansas First News.
Tora! Tora! Tora! (1970)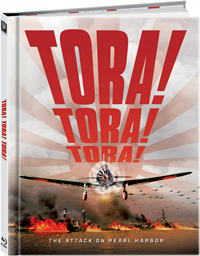 This past week marks the 70th anniversary of the bombing of Pearl Harbor, the "day that will live in infamy." On Blu-ray this week with a 22-page digibook package is a great-looking restoration of Tora! Tora! Tora!, a Hollywood epic that re-enacts the events leading up to and the bombing itself on a grand scale.
It should be noted that this movie was pre-CGI, so the most impressive thing about it is that it recreated the attack with actual warships and airplanes to make it as authentic as possible. This movie is strictly for history buffs only, though, because it presents the story in the most dry way possible, so know that going in. It's like a History Channel re-enactment with all of the right aircraft carriers and airplanes.
That said, it's full of extras that will satisfy anyone interested in delving into Pearl Harbor. There's an informative commentary track with director Richard Fleisher and Japanese film historian Stuart Galbraith IV, and a documentary that covers the the historical impact of the Pearl Harbor attack. 10 Fox Movietone news reels depict front-line footage from Pearl Harbor and the war in the Pacific. History vs. Hollywood is a 90-minute special that compares Tora! Tora! Tora! to the actual events of Pearl Harbor, plus there's a a 20-minute AMC Backstory: Tora! Tora! Tora!
Even if the restoration makes Tora! Tora! Tora! look better than it ever has, the movie itself is clearly not the reason to pick up this extras-heavy Blu-ray presentation.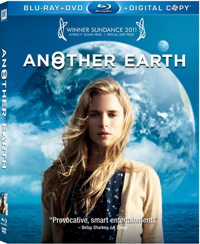 Another Earth (2011)
Also out now is Another Earth, an impressive low budget movie that follows a guilt-ridden young woman (played by co-writer Brit Marling) on her path to redemption. It's not the most complicated of films, but what's really interesting is how naturally the sci-fi element is woven into the fabric of the movie.
Another inhabitable planet is discovered in our solar system and it becomes viewable from the Earth. As the public learns more about what that might mean, the main character gets more deeply involved with someone (William Mapother) she owes a great debt to until the two stories collide in an entirely satisfying way.
Another Earth is the kind of indie film with a melancholy vibe that would normally light up movie critics. But it's a little too single-minded in its character development. It helps that the two actors have a natural and believable chemistry, though.
The way the sci-fi aspect is always in the background may make you try to second-guess the script, but the ending works — mostly because its as underplayed as the rest of the movie.
Another Earth is definitely worth checking out.
Seven deleted scenes and 18 minutes of very short featurettes don't add much to the package, nor does the music video. A commentary from Marling and Another Earth director Mike Cahill would have been nice to add.