Two very funny comedies with their share of darkness and razor-sharp insight into adult relationships are now out on Blu-ray.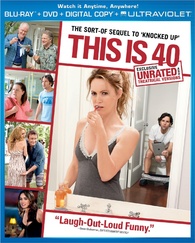 This Is 40 (2102)
One of the most unfairly maligned movies of last year is Judd Apatow's sort-of-not-quite sequel to Knocked Up, an R-rated comedy inspired by his own family trials and tribulations called This is 40. The supporting characters in Knocked Up, Debbie (Apatow's real-life wife Leslie Mann) and Pete (Paul Rudd), are elevated to the lead roles as the downturned economy, two teenage girls, annoying parents, and their own fears of growing older contribute to an unstable married life.
Sure, This Is 40 is a little long, unfocused, and unwieldy (the theatrical R version is 134 minutes, new unrated one is 137), but it's funnier and contains more painful truths about adulthood than anything I've seen in a while. Apatow's strategy in developing the script was situational, meaning that he created extrapolated fictional moments from real-life inspiration and incidents. Considering the Blu-ray also has 54 minutes of deleted scenes and 11 minutes of alternate line readings, it's safe to assume that Apatow had an extraordinary amount of material to work with and that much of the shape of the film took place in the editing bay.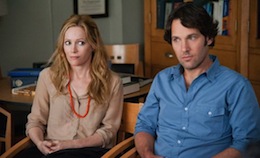 As I said in my original theatrical review of This Is 40, it's hard to externalize inner conflict and dread, and even if Apatow is all over the place, there's nary a misfire in terms of astute observations. He really has his finger on the pulse of the early midlife crisis. Rudd is his usual hilarious self, but Mann is the real standout here, showing just enough of Debbie's manic insecurity and tenderness to create a sympathetic but not overly simplified character.
There's also a feature length commentary with Judd Apatow that covers all aspects of writing, improvising, using your own family, and other production details. This Blu-ray/DVD combo has a ton of other extra features as well, including a 50-minute making-of documentary, an 45-minute NPR interview with Terry Gross, musical perfomances by Graham Parker and the Rumour and also Ryan Adams, a gag reel, a segment with co-star Robert Smigel as Triumph the Comic Insult Dog making fun of the cast. Any appearance by the take-no-prisoners Triumph is always welcome by me, and he holds true to form here with some brutal insults of Apatow and the cast.
Bachelorette (2012)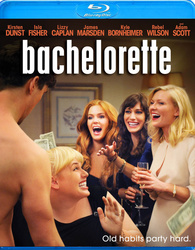 Leslye Headlund adapted last year's big VOD hit Bachelorette from her own stage play and had a surprising hit on her hands. The dark comedy didn't have much of a theatrical run, but its $5.5 million take in VOD/online markets means that the film was able to find a good portion of its demographic and probably benefited from great word of mouth.
Now this uncompromising movie is out on Blu-ray with some extra features and it's still as mean-spirited and funny as it ever was. I think it deserves comparison with Louis C.K.'s groundbreaking Louie series on FX, although its obviously less episodic in nature. Both entities are based on the kind of selfish observations that aren't voiced out loud very often.
Bachelorette, starring Kirsten Dunst as a jealous bridesmaid in the middle of a thirty-something life crisis, has a pretty wicked mean streak, and doesn't really contain the kind of feel-good humor of most mainstream comedies, but that's what gives it its charm. Lizzy Caplan and Isla Fisher are two more shades of aimlessness and darkness, playing an unhappy woman with a sharp tongue and a ditzy party girl respectively. Rebel Wilson is the trio's overweight high-school friend and the fact that she's grown up quicker than they have and is marrying what appears to be the perfect man causes her pals to go into a deep tailspin the night before the wedding.
Maybe the film isn't as consistently funny as This Is 40, but its certainly more focused. At the end of Bachelorette, however, the trio is let off the hook a tad too easily. If they weren't, I suppose, the movie would have had an even more bitter taste. (See the recent Young Adult for the perfect example of how to do this effectively.)
The Blu-ray contains feature-length audio commentary with writer/director Leslye Headland, behind-the-scenes featurette, and a blooper reel.