Check out videos of all my movie reviews on KSNT-NBC, KTKA-ABC, and KTMJ-FOX, Kansas First News.
A pair of tongue-in-cheek movies about aliens are new on Blu-ray and DVD this week and neither of them involve Men in Black. Here's the latest on the home video releases of an 80s cult classic and a new movie from this past summer.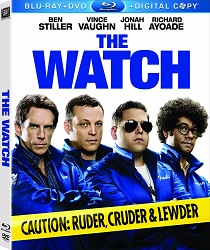 The Watch (2012)
The Watch is the latest in a long line of recent comedies that relies so heavily on the charm and timing of its cast that it made me wonder if there was ever a script at all. Certainly there had to be something on paper for this film to get green-lighted in the first place, but The Watch is so generic and lacking surprise of any kind that surely it couldn't have been made without Ben Stiller, Vince Vaughn, and Jonah Hill on board.
Actually, it turns out it that this lame sci-fi comedy was supposed to be for teens, but was re-written by Seth Rogen and his writing partner Evan Goldberg to be aimed at adults. The result is a movie that doesn't work for either.
Stiller is overcompensating, Vaughn is loud, and British comedian Richard Ayoade is on a completely different wavelength. Only Jonah Hill manages any laughs and most of his best scenes are in the gag reel. Watch that instead and save yourself 90 minutes.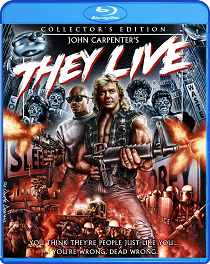 They Live (1988)
John Carpenter's 1988 cult b-movie They Live is actually a horror comedy with serious overtones, masquerading as a sci-fi film — and it's still very relevant and funny today.
Imagine if you had accidentally discovered that the 1%—the richest and most powerful people in America—were aliens and they were in control of all mass media, and therefore, us.
That's what a drifter played by wrestler 'Rowdy' Roddy Piper discovers in this endlessly absurd and enjoyable movie from the man who gave us Big Trouble in Little China and Escape From New York. All of Carpenter's flair for the dark and absurd are in play here, and even when the acting leaves a little something to be desired, the story has some unexpected poignancy.
Social commentary has rarely been more creepy (subliminal messages are everywhere in They Live, but only those with the right sunglasses can see them) or fun, like the brutal six-minute fight scene where Piper tries to get Keith David to put on — you know it — one said pair of sunglasses. They Live is a paranoid thriller that stretches a paper-thin budget with inventive special effects that serve the story and a message that still holds water today.
A new Shout Factory Collector's Edition Blu-ray and DVD re-issue has an audio commentary with Roddy Piper and John Carpenter, plus brand-new interviews with the cast and a making-of featurette. Watching this new disc, it's easy to understand why They Live has only grown in cult stature since its release 23 years ago.