This review originally appeared in shorter form on KSNT-NBC, KTKA-ABC, and KTMJ-FOX,
Kansas First News
.
Two of the best movies of the year are out on Blu-ray and DVD this week, and although each explores the human condition, they couldn't be farther from each other in terms of approach.
The Tree of Life (2011)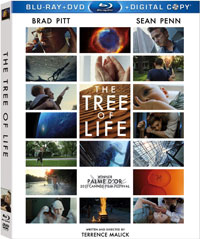 The Tree of Life is epic, personal filmmaking at its best and most challenging, beautifully shot by Emmanuel Lubezki and directed with confidence by Terrence Malick.
It's essentially a slice-of-life tale of a Texas family in the 1950s, with Brad Pitt as the overbearing father and Jessica Chastain as the loving mother. Pitt has never been more solid. This is one of the most fully realized characters he's ever played, and with a subtlety that's disarming.
The young actors who play their three children are so real too. To get these kinds of performances out of such young talent, Malick must be a conjurer.
But The Tree of Life, as you may have guessed from the title, is framed by a solid 30 minutes at least that depicts no less than the universe's creation, the rise of life on Earth, the death of the universe, and the afterlife.
It's thrilling, jarring stuff and none of it is presented with a traditional narrative and easy answers. Love it or hate it, you've never seen anything like it, and the Blu-ray presentation especially is really something to behold.
If Lubezki doesn't win the Oscar this year for cinematography, then Malick may be wrong about his entire premise: There is no God.
Read my original full-length print review of The Tree of Life and contributor Michael Bird's appreciation.
Terri (2011)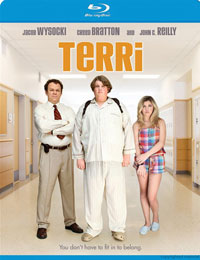 Terri, on the other hand, is a small indie film about an overweight misfit kid in pajamas (Jacob Wysocki) who's just trying to find his place in the world, and an assistant principal (the hilarious John C. Reilly) who wants to help him.
Reilly and Wysocki's scenes together have the realistic push-and-pull of insecure people trying to relate to each other, and the movie unfolds into some disturbing places, forcing Terri to look at his life in the bigger picture.
Terri was shot in just a couple locations on a tiny budget, but it sense of heightened reality and terrific performances make it a strangely touching story.
One particular plot point involving a misunderstood girl towards the end seems a little forced, but once it movies forward, the naturalistic performances and anti-showy cinematography make it seem plausible, if not 100 percent thematically necessary.
Check both of these movies out on Blu-ray or DVD ASAP, especially if you are feeling adventurous.