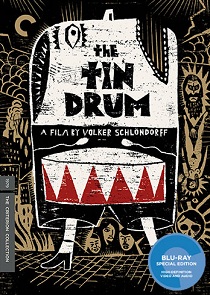 The New German Cinema movement included well-known auteurs such as Werner Herzog, Rainer Werner Fassbinder, Alexander Kluge, and Wim Wenders. Although he was equally celebrated during the movement's heyday from the 1960s – 1980s, director Volker Schlöndorff doesn't have the name recognition today that his counterparts do.
In 1979, however, Schlöndorff was on top of the world. His new movie The Tin Drum (Die Blechtrommel), an adaptation of Günter Grass' acclaimed and controversial novel, was a sensation at Cannes and shared the top prize there with Francis Ford Coppola's Apocalypse Now.
The Criterion Collection has just released a restored HD transfer of The Tin Drum on DVD and Blu-ray, remastered with a new 5.1 soundtrack and 25 extra minutes that the director was forced to cut upon its original release.
The Tin Drum is a fascinating blend of magical realism and black comedy, all told from the point of view of a super-intelligent three-year old boy in Danzig, Poland who realizes the ridiculousness and futility of adulthood at a young age and refuses to grow older. As time progresses, Oskar remains the same age put possesses a worldliness beyond his years. He also has the ability to issue piercing screams capable of shattering glass, which he does anytime someone tries to take his precious tin drum away.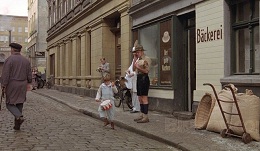 Eleven-year-old David Bennent plays the stunted Oskar with an eerie confidence and stillness. It's easy to see why he finds adults ridiculous — in the very first scene Schlöndorff has the film moving at an unnaturally fast hand-cranked speed à la the Keystone Cops. As the Nazis start to gain prominence in Europe, Oskar has fun ruining a Nazi rally and is present for the awful defense of the Polish post office, one of the first acts of World War II.
The surreal quality of The Tin Drum is enhanced by Oskar's travels with a roving band of midget circus performers and his sexual relationship with a 16-year-old mother figure (Katharina Thalbach). The original book was called "blasphemous and pornographic," and certainly the movie was met with similar reactions, so there is a lot of risky scenes where Schlöndorff's depiction could have veered towards the salacious. Watching a little kid engaged in sexual relations with an underage girl is far different from reading about one, even one who is not a kid anymore in the story itself.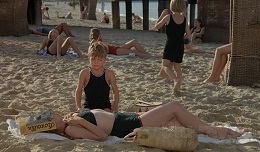 But somehow the movie's unreal quality and emotional core keep it focused on satire. There are many themes running through The Tin Drum:  resistance against an unkind world, the need for acceptance, the horrors of romance and war, and the final idea that growth is inevitable and unfortunately, necessary.
Volker Schlöndorff handles it all with a steadiness, but I have to admit, at 162 minutes, the director's cut of The Tin Drum is a challenge. Ironically, at its length, the film doesn't cover all chapters of Grass' book. Still, its a challenge worth taking up — if not just to witness a movie that walks a tonal tightrope throughout its running time, yet somehow evokes all its conflicting ideas so successfully.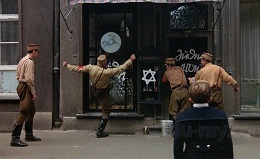 Extra Features
The Criterion Blu-ray has some great interviews with Schlöndorff, a New German Cinema film scholar, and TV excerpts with Schlöndorff, Bennent, and more.
There's even an extra feature with Günter Grass reading from his novel during the Nazi rally scene, illustrated by the scene from the movie, and it's interesting to see the author's intent during the actual visualization of the moment.