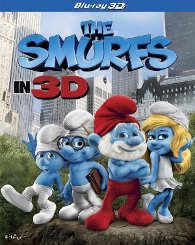 The Smurfs (2011) Blu-ray DVD Review
The Smurfs were a staple of my Saturday morning cartoons growing up. For those unfamiliar, Smurfs are small blue magical creatures named after their most prominent characteristic (giving us characters like Handy Smurf, Jokey Smurf, Poet Smurf, Sneezy Smurf, and the like). They live in mushroom houses, feed on Smurfberries, and spend most of their time singing and hiding from an evil wizard who wants to destroy them.
In the new live-action/CGI movie, this combination may only work for young kids. In other words, it's not quite as awful as I expected it to be.
Fleeing from the evil wizard Gargamel (Hank Azaria) a handful of Smurfs find themselves pulled through a magical portal into our world. Now Papa Smurf (Jonathan Winters), Smurfette (Katy Perry), Grouchy (George Lopez), Brainy (Fred Armisen), Gutsy (Alan Cumming), and Clumsy (Anton Yelchin) find themselves in New York. To find their way home they enlist the help of a stressed out marketer (Neil Patrick Harris) with an egomaniacal boss (Sofía Vergara) and a pregnant wife (Jayma Mays).
Over the course of the film, Clumsy will learn people, and even Smurfs, are more than one thing, and Patrick (Harris) will learn to trust his instincts and come to terms with being a father.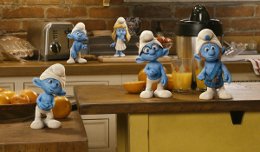 The Smurfs themselves work well-enough in the transition from animation to CGI (even if from some angles they aren't as cute as they should be). And Harris and Mays are well chosen as the humans for them to interact with, as both actors' childlike wonder shines through.
Sadly Azaria's Gargamel is far more annoying. Gargamel's antics come off insane and creepy more than humorous, and the real-looking CGI Azrael doesn't have half the personality of Gargamel's cartoon feline.
The plot, tying the fate of the Smurfs to a Blue Moon and Patrick's chance at a promotion, doesn't work all that well, either. Had the film stayed a little more focused on the Smurfs quest to get home things might have gone a little smoother.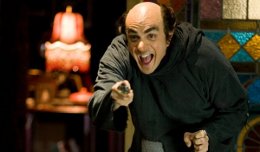 Young kids might enjoy the film, and those with enough nostalgia for the original comic by Peyo (which is worked into the story) or the cartoon may find some enjoyment here. However, most are probably going to find themselves only casually interested at best. The scene which finds the Smurfs lost in a toy store ratchets up the insanity into one of the few bright spots for a story that may include a nice lesson but ultimately doesn't go anywhere.
That said, I was surprised to find the heart of most of the characters translated well to screen. Given recent wretched cartoon adaptations to the big screen I expected a complete trainwreck, but The Smurfs works better than ill-conceived attempts such as Underdog and Scooby-Doo.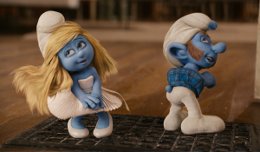 The film is available on a two-disc Blu-ray/3D Blu-ray/DVD combo, and a single-disc DVD. Extras include a "Find the Smurfs" game, bloopers, a happy music montage, featurettes on the making of the film and Gargamel, a commentary by director Raja Gosnell, and a second commentary track with producer Jordan Kerner, writers J. David Stem, David Weiss, Jay Scherick, and David Ronn, and visual effects supervisor Richard Hoover.
The Blu-ray also includes both 2D and 3D versions of the film, deleted and extended scenes, an additional featurette on the cast, and progression reels. The three-disc Holiday Blu-ray/DVD version also includes an all-new animated mini-movie "The Smurfs: A Christmas Carol," an interactive "Smurf-O-Vision" for use on iPads or iPhones as you watch the movie.
The Blu-ray is also one of the first to offer access through and UltraViolet Digital Account which allows owners to add the movie to their cloud and access it from anywhere.