The Sitter (2011)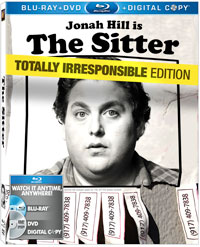 Coming off his recent Oscar nomination for Moneyball, Jonah Hill headlines the comedy The Sitter, which is basically an R-rated, not-for-kids version of the cult 1987 movie Adventures in Babysitting starring Elisabeth Shue.
Hill puts the three kids he's babysitting into all kinds of over-the-top danger as they navigate drug dens and bars all over New York, and even break into a jewelry store. Hill has a natural talent for making any situation funny with his deadpan humor, but in The Sitter it only goes so far.
Half the jokes don't land well at all, so when the sitter starts teaching some life lessons to the kids—after all the irresponsible stuff he's done— it's really too late to salvage the film. The extras are sometimes funnier than the movie:
10 deleted and extended scenes, including an alternate ending
A 2:37 Gag Reel
Three minutes of actors improvising their lines called "Sits-N-Giggles"
A 15-minute behind-the-scenes featurette, with interviews and footage shot on the set.
Five minutes of Jonah and the kids called "Jonah the Producer"
In the Land of Blood and Honey (2011)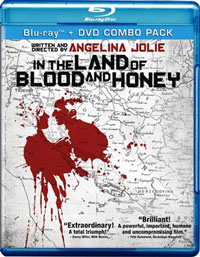 In the Land of Blood and Honey is Angelina Jolie's directorial debut and on Blu-ray, it is presented with subtitles in a Serbian-language soundtrack and also with an English language version.
It is a brutal war movie set against the backdrop of the Bosnian War (which may be the worst European conflict sine World War II) , with a really uncomfortable love story between captive (Zana Marjanovich) and captor (Goran Kostić) sandwiched in the middle somewhere.
Jolie never shies away from the horrors of war, with scene after scene of ethnic cleansing and war atrocities, but In the Land of Blood and Honey suffers from an emotionally distant script and some weird editing that make the film's languid pace even more noticeable.
The movie raises awareness about a war in our recent history that few people in America know much about, but as a film, it's not very compelling. Extras include:
16 minutes of deleted scenes
A 10-minute "Making Of" documentary
An hour-long interview with Angelina Jolie and actress Vanesa  Glodjo