The Sapphires, an Australian film from director Wayne Blair  that tells the story of an Aboriginal girl group who come together in the 1960s, with the help of a charismatic/drunk manager Dave Lovelace played by Chris O'Dowd. It's a simple, well made, low budget movie, but it quickly falls into safe and convenient territory. And it's unfortunate given the rich historical background that frames the film and it's characters who are inspired by real people.
The movie opens with a pair of title cards explaining that up until the 1960s, Aboriginal people – one of the oldest indigenous peoples on the planet – were classified as flora and fauna on the Australian census. They were relegated to designated living areas outside of towns and for a time the Australian government would routinely remove light-skinned children from their homes, institutionalize  them and teach them "white ways."
That's disturbing information, especially for someone learning about it for the first time during the opening of a movie, but The Sapphires introduces this information, explores it for a few dramatic situations, and then settles into a by-the-numbers romantic comedy that fails to serve either genre well.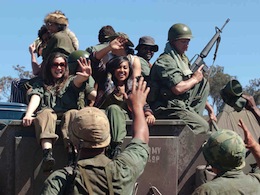 The titular girl group is played by Deborah Mailman, Jessica Mauboy, Shari Sebbens and Miranda Tapsell. All three actresses are charming and capable in their roles, but the material doesn't give them much room for characterization. Mailman plays Gail, the leader of the group who is a strong force within the group, but her own motivation is vague and the attempt to explain or deepen her character is muddled. Instead, her character is given a half-boiled love interest in O'Dowd and some third act melodrama better suited for a Lifetime movie.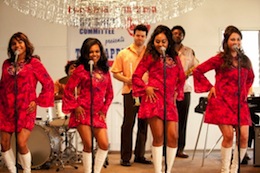 Tapsell and Sebbens play Cynthia and Kay, respectively. As characters, they have more to offer because they're young and restless and totally embrace the musician's life once they get out on the road. Their exploits are fun and lightweight, but are ultimately forgettable.
And so is The Sapphires. The story around the film is far more interesting than the film itself, which takes a fascinating historical context and filters it through a by-the-numbers romantic comedy filter. It's not a terrible film by any means, but it's also forgettable and a little lazy, particularly in its final minutes.