This review originally appeared in shorter form on KSNT-NBC, KTKA-ABC, and KTMJ-FOX, Kansas First News.
Two classic movies are new out on Blu-ray now. One is a family film from the 80s and the other is a restored version of an award-winning world cinema masterpiece.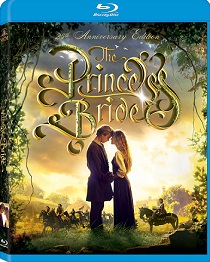 The Princess Bride (1987) 25th Anniversary Edition
When I first saw Rob Reiner's romantic fantasy The Princess Bride in 1987, it swept me off my feet.
It didn't do much at the box office then, but since then it's become a true American classic that's enjoyed by filmgoers of all ages. The Princess Bride is one of the only movies I know that can melt the most hardened of hearts instantly, and it's overflowing with charm and wit.
The new 25th Anniversary Edition Blu-ray looks fantastic and it reminded me that when you combine snappy dialogue with rollicking adventure—and you balance a real sense of wonder with a winking sense of humor— you get that rare picture that has it all.
Of course, Westley (Cary Elwes) and Buttercup (Robin Wright) find true love, but Princess Bride fans will be head over heels for the huge amount of special features on this disc.
It keeps all of the extras from the Special Edition DVD and adds a new reunion of Reiner and his two lead actors, plus brand-new interviews from most of the incredible supporting cast.
Umberto D. (1952)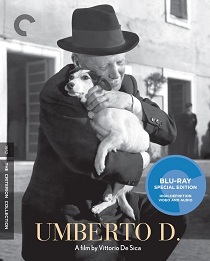 Speaking of classics, The Criterion Collection recently reissued Umberto D., a heartbreaking movie from director Vittorio de Sica that portrays old age and loneliness in a stark and uncompromising way.
A retired office worker (Carlo Battisti) struggles to make ends meet on his meager pension and finds solace only in the constant companionship of his dog Flike. His only friend is the naïve young maid (Maria Pia Casilio) of his dirty, ant-infested apartment and she is pregnant but not sure of the father.
Umberto D. is an incredibly earnest slice-of-life film that many consider one of the last of the popular neorealist movement — that is, Italian movies that used real locations instead of sets and real people instead of trained actors.
This lends authenticity even in its most sentimental parts. Even sentimentality is something that springs naturally from the characters' situations. Umberto has an immense amount of pride despite his impoverished conditions and his attempts to survive aren't accompanied by the usual filmic theatrics. Rather, we simply spend time during the unblinking gaze of everyday life with Umberto and Flike. Remarkably, that's enough.
If you are not emotionally affected by this movie then your heart is made of pure stone—no joke. Also included in the new Criterion Collection blu-ray:
– That's Life: Vittorio De Sica, a 55-minute documentary about the director's career, made for Italian television in 2001
– Interview with actress Maria Pia Casilio from 2003