This review originally appeared on KSNT-NBC, KTKA-ABC, and KTMJ-FOX, Kansas First News.
An animated children's movie about pirates and a drama about a man living his life out of order are two new DVDs out now.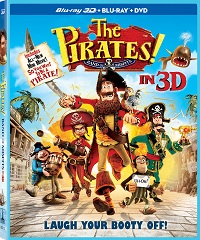 The Pirates! Band of Misfits (2012)
Aardman Animations, the studio behind Wallace and Gromit and Chicken Run, produced a stop-motion clay and computer-animation film earlier this year called The Pirates! Band of Misfits.
It's voiced by Hugh Grant, Martin Freeman, Imelda Staunton, David Tennant, and a virtual who's who of other British actors. Based on a popular series of kids' books by Gideon Defoe, the movie follows a crew of bumbling pirates and their leader's quest to impress the rest of the pirate community.
If that isn't silly enough, throw in Queen Victoria, Charles Darwin, and a trained chimpanzee and you've got a rollicking tale that doesn't reach too far but doesn't disappoint either.
The Pirates! is full of jokes for adults that will fly right over kids' heads, but retains just enough plot conflict and slapstick to keep younger audiences involved as well. Like most kids' movies these days, there is a 3D version as well, although I watched only the 2D version.
Shuffle (2011)
Shuffle, however—an independent feature also out on DVD now—is a little tougher to follow. But that's by design.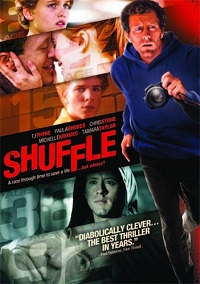 A photographer (T.J. Thyne) is living his life out of order. One minute he's 30, the next he's 15, and so on. I've seen comparisons to Christopher Nolan's Memento mentioned for Shuffle, but it's more like Slaughterhouse-Five, where the main character is unstuck in time.
Filmed on a low budget, Shuffle's screenplay and ambition are a bit too big for its cast and production value, but it's still an engaging movie. Writer/director Kurt Kuenne's last movie was the heartbreaking documentary/personal reflection Dear Zachary: A Letter to His Son about His Father, and it's exciting to see him stretching with a fictional feature-length film.
Kuenne's screenplay has some great twists and surprising moments that illuminate its main character, proving that he has the chops to make more than merely genre film, but the ending overdoses on saccharine and overreaches.
There are two versions of the film on DVD. The black-and-white version toured film festivals with the director and is his preferred cut of the movie. A color version is also on the DVD, presumable so as not to limit its appeal. I watched the black-and-white version, so this review reflects that version film only.
Shuffle on DVD also features video diaries from the festival circuit, and a making-of documentary.