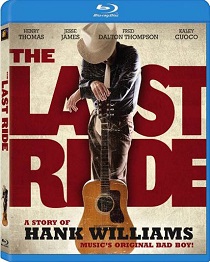 The death of country songwriting legend Hank Williams has been the stuff of legend since it was announced on January 1, 1953. Controversy surrounds the actual cause and time of death, which likely occurred sometime the day before in the back seat of a Cadillac in Virginia on the way to a New Year's Day show.
The Last Ride, a romantic "what-if" version of the story starring Henry Thomas as Hank Sr. is out now on Blu-ray and is interesting only as a cultural artifact.
The movie, written by Howard Klausner and Dub Cornett, takes so many liberties with the story of Hank's fateful journey with a college student named Charles Carr that it renames him Silas and has Hank referring to himself as Luke (as in Luke the Drifter, one of his many nicknames). Thomas acquits himself nicely, playing the pain-stricken Hank with a short temper, pallid complexion, and a broken heart, but the script doesn't give him much to do beyond that. Jesse James, however, who plays Hank's inexperienced driver, has a permanent deer-in-headlights look that doesn't change throughout the entire picture.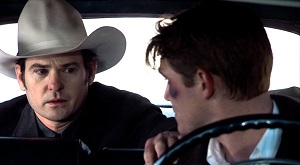 Williams' personal and professional life were in shambles by late 1952, and because his last days were filled consuming alcohol, chloral hydrate, and morphine, they were probably fairly uneventful. The Last Ride, directed by Harry Thomason (best known as a producer of TV's Designing Women), constructs a hokey fictional narrative around this trip that allows Hank to play the older, wiser character, passing his life experience on to young Silas, who musters the courage to ask out a pretty girl. It also gives him the opportunity to  enjoy some authentic Appalachian folk music anonymously and reflect silently on his life (we assume).
I totally understand the need to create some sort of deeper meaning out of Williams' last days, especially the man who brought so many people joy with his songs was chronically depressed and died so young. (He was 29.) The Last Ride, though, is pretty thin stuff for a full-length movie and is dramatically inert. It even fails on the music level, with a soundtrack consisting of contemporary artists covering Williams' songs, which is at odds with the period setting of the film.
The only bonus feature included on this bare-bones release is a fluffy, brief making-of featurette called "A Look Inside The Last Ride."