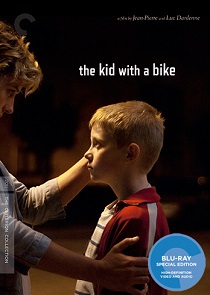 What has struck me the most about the two most recent Criterion Collection titles by Jean-Pierre Dardenne and his brother and Luc Dardenne is how filled with action and conflict they are, despite the fact that they are essentially low-budget character dramas.
And how present and in the moment they are.
Oh yeah, and the stubborn pride of their main characters.
In 1999's startling drama Rosetta, the jittery first-person camera follows a young girl on her single-minded quest for a better life, putting you right in the middle of her awful situation. Her refusal to compromise is a trait very much shared by the main character of the Dardennes' 2011 film The Kid With a Bike, out now on Blu-ray and DVD.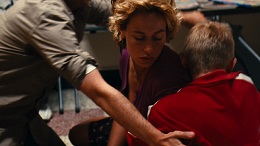 Cyril (Thomas Doret) is an 11-year-old boy who refuses to believe that his father has just up and left him, even going so far as selling his sole possession — the bicycle his father gave him. That same active camera from Rosetta darts around, projecting Cyril's kinetic energy and his unwillingness to be contained, until he's exactly where he wants to be. Cyril is a tough character to identify with, but not hard to empathize with.
Inspired by a story they heard in Japan about a son abandoned by his father who eventually fell into a gang, this remarkable Belgian filmmaking duo crafted a script that also focuses on another equally stubborn person — the hairdresser (Cécile de France, best known in America for her role in Clint Eastwood's Hereafter) who takes Cyril in, despite the boy's seeming complete lack of compassion and warmth. But her stubbornness is her compassion, and it is absolutely put to the test.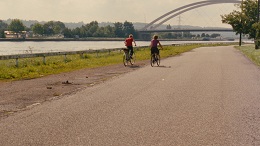 Set again in the working-class in the town of Seraing, Belgium, The Kid With a Bike is as deliberate as it is unsentimental. It's slice-of-life filmmaking for sure, but without all the aimless pitfalls that many films of its ilk easily fall into. No, the Dardennes have once again crafted a lean, efficient film that is plotted with singular purpose without hitting a false note. I missed The Kid With a Bike in the theaters, and regret it, but I'm very happy that Criterion has made this underrated gem available in such a great package.
The special features on the Criterion disc do much to delve deeper into the Dardennes and their style. A new interview with Jean-Pierre and Luc Dardenne talks quite candidly about their inspiration for The Kid With A Bike. There are also interviews with actors Cécile de France and Thomas Doret that illuminate the brothers' process. Lastly, the 30-minute documentary Return to Seraing has the directors revisiting five locations from the movie.