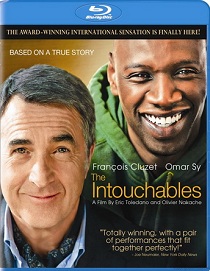 France submitted this touching film, new out on Blu-ray and DVD, as their official selection for the Foreign Language Film Oscar at this year's Academy Awards because that's the year it was released here in the States.
Despite being the second-biggest box office success ever in its home country, The Intouchables was snubbed and didn't even receive a nomination as one of the five films eligible for the Oscar.
Now American audiences can see the film on home video.
The Intouchables (2011)
Based on the nonfiction book by Abdel Sellou and written and directed by Olivier Nakache and Éric Toledano, this French odd couple comedy stars Omar Sy as an ex-con out on the street who is hired as a caregiver for a rich French aristocrat (François Cluzet) with whom he has nothing in common.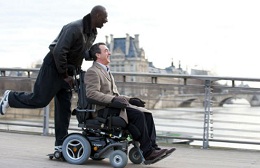 Most of the humor early on deals specifically with Driss' (Sy) learning his new responsibilities, his discomfort with various aspects of his new job such as dressing Phillipe and "draining the ass" of a man he doesn't know, and his fumbling juvenile attempts to woo Philippe's completely uninterested assistant (Audrey Fleurot) into bed.
From there The Intouchables moves into the inevitable phase of the two finding common ground and becoming friends. Subplots involve Driss' attempt to be a painter and keep his cousin (Cyril Mendy) from following his same path, the relationship between Philippe's daughter (Alba Gaïa Kraghede Bellugi) and her boyfriend (Thomas Solivéres), and Driss pushing Philippe to meet the woman (Dorothée Brière) he's been corresponding with for months.
The Intouchables is the kind of lightweight feel-good film which is enhanced by a pair of strong leading performances. Both too predictable and schmaltzy at times, it still manages to entertain for most of its 112-minute running time.
The lone significant extra feature is five short minutes of deleted scenes, included on both the single-disc DVD and Blu-ray versions of the film.