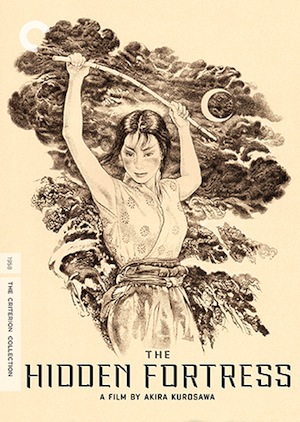 By the time Akira Kurosawa made The Hidden Fortress in 1958, he had already had enough ups and downs for an entire career.
He had worked his way up, made some popular action films, and had a couple flops. With 1948's Drunken Angel and 1949's Stray Dog, though, he proved himself a director of tough crime movies that reflected a Japan still reeling from World War II. Rashomon broke everything wide open in 1951 when it won the Golden Lion at the Venice Film Festival, and his golden decade was on.
The 1950s featured the master Japanese director tackling his first true samurai film, Shakespeare, nuclear terror, a Maxim Gorky play, and a Leo Tolstoy novella. Dark stuff indeed. So Kurosawa was in the mood for something a little more lighthearted and mainstream. The movie that fit that bill was The Hidden Fortress, recently released in a new 2K restoration with new a English subtitle translation by The Criterion Collection on dual-format Blu-ray and DVD.
Not only does it feature two bumbling pals as "heroes" and comic relief, but The Hidden Fortress is a rollicking adventure, complete with castles, lots of extras and landscape shots, and Kurosawa's first Tohoscope widescreen presentation.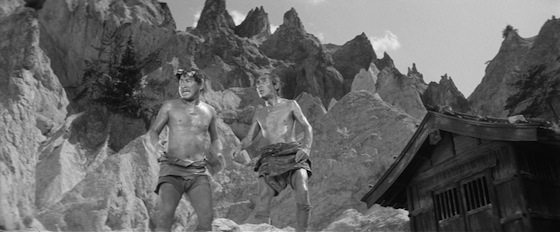 Although it is a jidaigeki Edo period drama, The Hidden Fortress bears a lot of western influence, with clear-cut bad guys and good guys, and a simple code of honor. It lacks the psychological depth of something like High and Low, and often times the constant groveling of peasants Tahei and Matashichi (Minoru Chiaki and Kamatari Fujiwara) can become grating.
The director's longtime collaborator Toshiro Mifune, however, commands the screen as usual, as an Akizuki General hiding out undercover to keep his Princess safe, and each mounting conflict reveals more of his character. The actor also reportedly did all of his own stunts for the film. The spoiled and sheltered young Princess Yuki Akizuki (Misa Uehara) grows as well, understanding more about the people who live outside the castle walls.
Kurosawa makes grand use of the widescreen format, especially in one key battle scene on a long, steep series of steps, which is also brilliantly choreographed. Even when he is just shooting a couple characters in an intimate scene, more is intuited about each character due to their placement in the frame.
It's no secret that The Hidden Fortress, along with Seven Samurai, was a big influence on George Lucas as he began writing Star Wars. C-3Po and R2D2 are clearly modeled after Tahei and Matashichi. Since there's also a princess hiding out, I suppose some of the plot elements are fairly familiar as well. The Criterion dual-format Blu-ray/DVD contains a 2001 interview with Lucas about this in the supplements.
All of these familiar elements, and the fact that Kurosawa himself was drawing influence from American western directors like John Ford, make The Hidden Fortress an enjoyable film, but sometimes the movies that influenced a generation of filmmakers lose some of their luster because they've been borrowed from so many times.
More extra features in this handsome package include a new feature-length audio commentary by film historian Stephen Prince, author of The Warrior's Camera: The Cinema of Akira Kurosawa and a documentary from 2003 on the making of the film, created as part of the Toho Masterworks series Akira Kurosawa: It Is Wonderful to Create. The trailer below is not from the new 2K restoration on the new Criterion Blu-ray/DVD, which has stunning clarity.