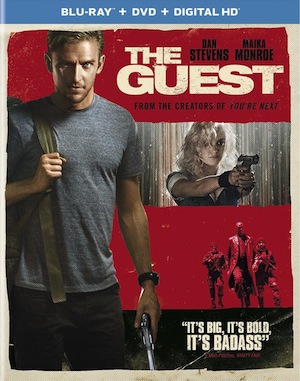 [Rating: Solid Rock Fist Up]
While the mainstream horror industry seems content either to produce high-concept Blumhouse movies or reboot and revive old horror franchises solely for name recognition at the box office, writer Simon Barrett and director/editor Adam Wingard have been quietly carving out a name for themselves.
Their collaboration on 2013's You're Next looked to be a standard-issue home-invasion flick, but Barrett's clever screenplay turned genre conventions on its head while Wingard's energetic direction made the film as thrilling as it was surprising.
The filmmaking duo gets just as much pleasure out of shock and awe as they do subverting the genres they are playing with.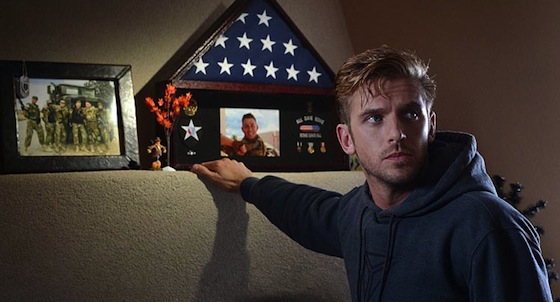 In The Guest, out now on Blu-ray, Barrett and Wingard aim their sights towards a more straightforward thriller, adding in just enough shocking violence to border on being a horror movie. Think about a modern re-telling of Alfred Hitchcock's "is he or isn't he" stranger-in-town masterpiece Shadow of a Doubt with a dash of John Carpenter, and you're on the right track. It's not as evocative or well-rounded as Hitchcock, but it uses similar inspiration.
British actor Dan Stevens is playing about as far against type as he could get from his beloved character on Downton Abbey, and he has all of the charm and presence necessary to pull the wool over the eyes of his prey, the Peterson family. Or are they his prey? Does he truly grow to care about them? That's the central question, because after a tour in Afghanistan with the family's late son, it doesn't take long for the handsome and mysterious David (Stevens) to ingratiate himself into the family.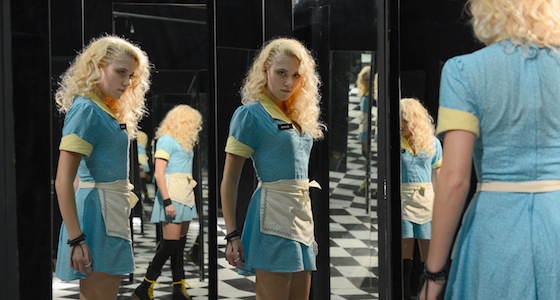 Barrett and Wingard are more about exploring the wish-fulfillment prospect of having a badass tough-guy stick up for you than they are getting into any deep psychological warfare. Still, the screenplay knows just when to create more menace and move on, and it escalates the craziness right up to the breaking point. After said breaking point, there's a stylized finale that has way more humor than it does suspense, and a totally forced kind of denouement. It's so schmaltzy and retro-80s that it goes right past believable — and straight into endearing.
The audio commentary with Barrett and Wingard is great, They're very candid, as usual, and talk about everything from budget limitations to challenges they couldn't quite overcome. They had a similar down-to-Earth candor on the You're Next bonus content too, and it's a breath of fresh air. a two-minute Q&A with Dan Stevens is included as well as 14 minutes of deleted scenes, available with or without commentary.