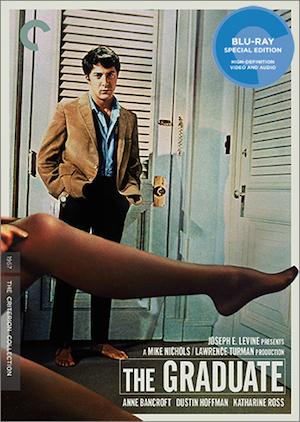 [Rock Fist Way Up]
Although it might seem counterintuitive, I believe that cultural specificity is the most effective way to illustrate universal themes and reach that elusive timeless quality that movies so seldom achieve.
I'm not sure how many times I've seen Mike Nichols' seminal 1967 counterculture classic The Graduate, but every time I do, it seems slightly different than the last time.
The movie, of course, is exactly the same.
(Although its widescreen Panavision cinematography by Robert Surtees looks better then I've ever seen it on this new Blu-ray from The Criterion Collection, from a 4K digital restoration. And don't even get me started on the wonderful new 5.1 surround sound remix, approved by Nichols before his death last year. It balances the lilting Simon & Garfunkel score with dialogue in a way that updates the film for modern ears without distracting from the feel at all.)
It's me who has done the changing, as well as the culture of the times.
Upon The Graduate's original release, it was reported that audiences stood up and cheered when mixed-up college grad Benjamin Braddock (Dustin Hoffman) and Elaine Robinson (Katharine Ross) impulsively ran off together from Elaine's own wedding, locking her guests in a church.  In 1967, it was a radical and freeing moment. It was rare to see this kind of naked rebellion, especially since Benjamin locks the guests in the church by jamming a large wooden cross into the door handle. But since then, there have been far more radical acts of youthful rebellion. (Killing popular kids and blowing up a school in Heathers jumps to mind.)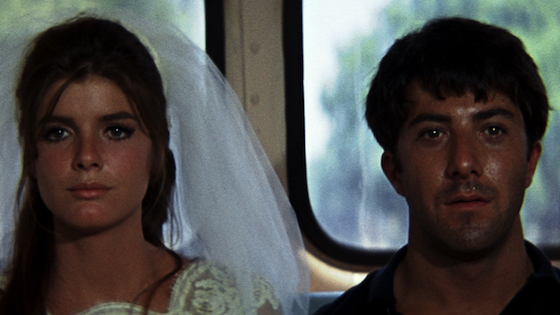 But what follows this moment? It's the infamous final shot on the bus where, after all the exhilaration and excitement dies down, Benjamin and Elaine look at each other, completely empty, like "Now what?" But that final shot, which gives The Graduate such a perfect, uncertain send-off, was an accident. In a new interview, film writer Bobbie O'Steen confirms that Ross and Hoffman were simply waiting for someone to yell "cut," and her husband editor Sam O'Steen, discovered the gem.
This act of God makes me wonder about the true intentions of the filmmakers. How did they really feel about the main character? Is he supposed to be more sympathetic than I find him to be? Producer Lawrence Turman and screenwriter Buck Henry admit in another new interview that the character of Benjamin was someone they wholeheartedly related to. They also say that Hoffman lent a certain air if vulnerability that makes his poor behavior (especially with Elaine) easier to swallow. I'd agree, but as I get older, the third act seems less impressive to me as anything but Benjamin flailing.
The Graduate is particularly cruel to Mrs. Robinson (the fantastic Anne Bancroft), who I find way more sympathetic now than I once did. But this is true of all the characters at certain times. There are contradictions in every character between the way they act and want to be perceived — and how seriously the film takes their plight.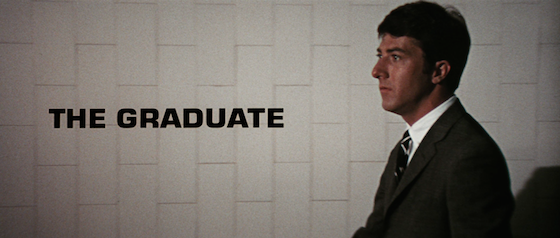 The movie just zig-zags its way across their lives, alternately mocking and sympathizing them that's why the film is so fascinating. Again, I point to the ending — it's not happy. It's messy, like real life. The Graduate is exciting because it captured a specific moment in time culturally, but within its three main characters, it captures timeless themes of feeling desperate, lost, and confused.
In addition to the extra features already mentioned, there are two commentary tracks. One, from 2007 features Nichols being prompted in conversation with director Steven Soderbergh. The other is a classic audio commentary from the Laserdisc in 1987, featuring film scholar Howard Suber. Suber may be reading, but this one is jam-packed full of trivia and detail about everything you could think of related to the movie.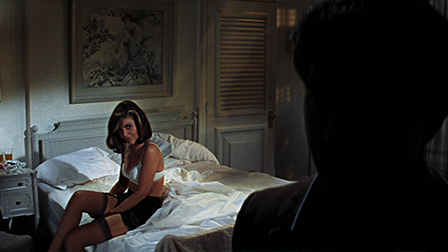 There's also a new interview with actor Dustin Hoffman, short 2007 doc on the film's influence called Students of "The Graduate," a 1992 featurette from the 25th Anniversary DVD on the making of the film called "The Graduate" at 25, an interview with Nichols by Barbara Walters from a 1966 episode of NBC's Today show, an excerpt from a 1970 appearance by Paul Simon on The Dick Cavett Show where he admits to making up "Mrs. Robinson" on the spot, and screen tests from Hoffman, Ross, and other actors who auditioned for the roles but didn't get them, proving what a crazy different movie that would have been.
To put it bluntly, this new Criterion Blu-ray of The Graduate is a film lover's wet dream. I'm so happy that The Criterion Collection got the rights to this all-time classic, and were able to give it the deluxe treatment it deserves.