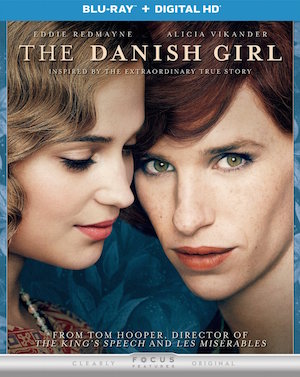 [Minor Rock Fist Down]
Alicia Vikander won a Best Supporting Actor Oscar this past Sunday for her work in The Danish Girl, out on Blu-ray this week, and it was well deserved.
(Well an Oscar for her acting was well deserved, but it probably should have been in the Best Actress category, considering she's in almost every scene of The Danish Girl, and the movie it told from her point of view. Category fraud really stinks.)
As Gerda Wegener, a Danish painter and wife of painter Einar Wegener (Eddie Redmayne), she is the character through which the audience experiences the the film's drama (or lack thereof). She is madly in love with her husband, who dresses as a woman to sit for her one day as a replacement. Einar enjoys the feeling of wearing women's clothes and feels right at home doing it, so when its suggested that he attend a party as Lili, he goes right along with it.
The way in which Einar slowly morphs into Lili until he can't feel comfortable going back to being Einar seems wholly believable — and Vikander's slow realization of what is happening to him is the backbone of The Danish Girl. But the movie pulls back every time there is an opportunity for an in-depth exploration of Lili's psyche or an examination on Gerda's part for the guilt and regret she may feel for encouraging this.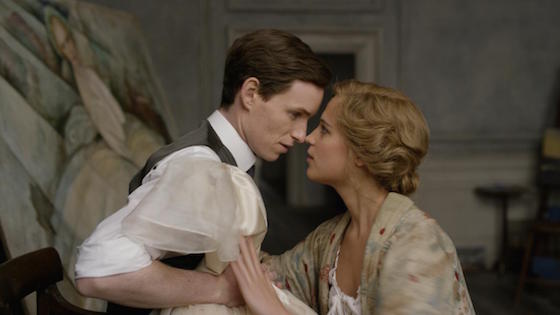 There's no doubt that this is a story from the 1920s told with a modern slant because the majority of it is concentrated on Gerda's acceptance. It's an important thing to get across, and it could still be the crux had the movie been differently tooled, but it seems that charges of schizophrenia, radiation therapy, and thoughts of suicide on Lili's part should have created a more tense atmosphere. Instead, director Tom Hooper presents a pretty picture and repeats the same theme over and over. Redmayne kind of does the same thing as well, so the film falls squarely on Vikander's shoulders.
The cinematography and production design look terrific on Blu-ray, with washes of aqua blue and green intermingling with browns like one of Einar's paintings. (I use "Einar" here because the artists ceased to be as Lili took over and she became mainly known for being Gerda's model.) Gerda's paintings had an art deco feel and were mainly portraits of modern women. It would have been interesting to see some of the visual design reflect her paintings since it was told from her point of view. But then that might have been too artsy for this very middle-of-the-road outing.
As far as extra features on the Blu-ray, there's only one to speak of — a standard, 11-minute making-of documentary that fails to impress. Six trailers for other recent titles released by Universal Pictures are also included.